When Shaun is discovered murdered on the set, Phryne is called in to solve the case. SPOILER: The food in the ABC cafeteria is to blame.
"Print version no longer available"
Shaun had mixed feelings this week, because Julian Assange was in trouble for running circles around the American judicial system, but Black Caviar could run in a circle around Royal Ascot and gets to come home. The whole topic of Justice has made Shaun flip his wig.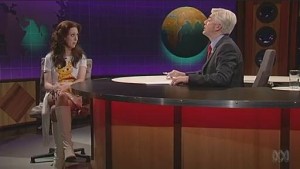 Will Sweden send Julian to the US for trial? Shaun consulted the former Frida from Bjorn Again (Roz), who insisted that Sweden was a nice, normal country which was less likely to do American's bidding than Australia. Although, if Shaun wants to know if an extraction team will be sent in, ala Mossad and Adolf Eichmann, he would have to consult an Israeli tribute band. Without a Topol impersonator, he deferred to Becky Stoat, Barbra Striesand impersonator, who described the whole incident.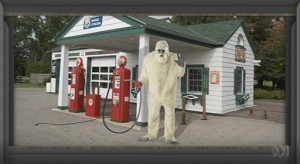 Bob Carr might say there's no evidence of a secret extradition order, but we know it exists, just like the Yeti who works at a gas station in Memphis. Darbyshire Greenback from the US State Department, insists that Guantanamo will be closed in 2009 and there is no extradition treaty that Shaun is aware of.
If Ecuador do accept Assange, he will be in the hands of their justice system. Consuela Manatee, special envoy to the Ecudorian embassy, is on holiday… in Australia, and said Assange would be protected by the UNESCO World Heritage, like most of the country.
Xanthe Calamazoo began a discussion on privately run prisons. She reported on a prime example of a private prison in NSW, that is it was only divisible by one and itself. Jim Booth (Francis), owner/manager, lamented the time they opened the doors and all the prisoners escaped. One prisoner, Steve (Tosh), has learnt his lesson – to knock over an easier ATM. In the studio, Xanthe interviewed Maree Spoons who insisted it was a cycle from birth to prison to birth. Back to Jim, he didn't apologise for the fact they lock out anyone who doesn't return from day release.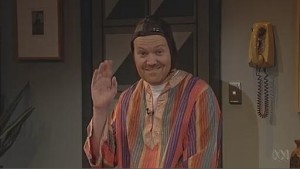 Xanthe pointed out that people who know say retribution and rehabilitation don't work together, but decided to ask someone who didn't know [Played by Stephen Hall, one the writers] – he didn't know.
The Top of the Vox Pops topic was "Should gay marriage by compulsory?", but no-one really answered the question.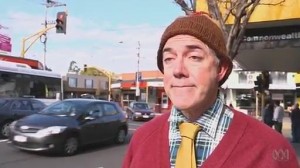 Shaun discussed the recent Newspoll results, and drew the conclusion that Australians wanted a coalition government with the preferred PM, Julia Gillard, as the leader, requiring Tony Abbott to join Labor, except that Kevin Rudd is the preferred Labor leader, but not with Tim Matheson.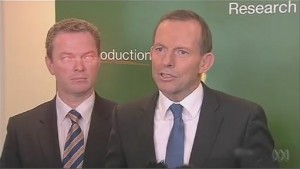 Shaun unfashionably likes Tony Abbott, because he has the strength to say to the government "whatever it is you're doing, I disagree with it 100%". But he's concerned that Tony's old passion has disappeared, and blames Christopher Pyne's laser eyes.
Invasion of privacy really gets Shaun's dander up. Kate Moss was at the Gippsland home of a family who was requesting privacy after their son was found trafficking cannabis. The media may have left, but Kate would remain to make sure the family were indeed left alone.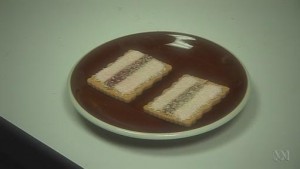 Shaun was keen to salute the efforts of Sky News again, who when reporting on the Melbourne Water overcharge scandal, used 35 seconds of footage of water coming from taps, sinks, showers, washing machines, hoses, hoses and more hoses and back to taps – just to illustrate the point. Shaun then illustrated what winning two Walkleys would be like – not just one, but two.
In the break, the Australian Defence Force was recruiting with the slogan "deferring to the US wherever we can". The latest Worksafe ad showed Simon, an intern at Worksafe, having an incident with a photocopier. And in the next BackBenched, Kevin Rudd can't believe the government still has support ahead of the carbon tax starting.
In a world first, caught on camera at the G20, an Australian PM was complemented on their dress-sense. And it was Julia Gillard. Plus she got a kiss from Barak Obama. But it's not the first time our PM has been kissed by a president; that last happened at John Howard's receiving of the Medal of Freedom by George W. Bush.
The Rio and G20 summits may have achieved nothing, but at least the economy is in a worse state than the environment – we will run out of money to eat before the climate is ruined. If the summits arranged a deal with the Mexican drug cartel to fund raise, Julia Gillard could have made it back to a sports fundraising event. Mrs Conroy reported how $2m was raised, enough to keep one athlete in performance drugs for a month.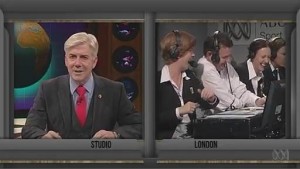 Shaun spoke to Maggie Bathysphere, who was still at the Olympic stadium in London, but the ABC Sports team had been watching YouTube clips rather than doing much reporting. Even with events such as Wimbledon and Tour de France happening around them, they were still preferring to use the services of the BBC or Fox Sports to watch them happen. But they could confirm, not one Australian was still in the tennis.
On the subject of Olympics, Mad As Hell had secretly filmed a ticketing corruption, where an official paid 100,000 Euros to get 100 people to attend the Canoe Slalom.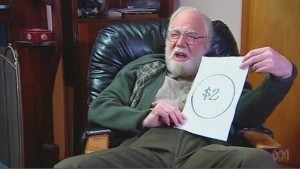 It was time one again for us to spend time with Bill Duthie and the Wisdom of the Elders, who was reminiscing about the change of the $2 note to the coin in 1988. He was glad to accept all of the examples Francis had. Bill himself had worked at the Royal Mint, and had entered his own design, but the scale and composition had made it impracticle – size of a dinner plate and made of solid gold.
And finally, Saudi Arabia has allowed one female athlete to the Olympics – shame her event is the 4×100 relay.