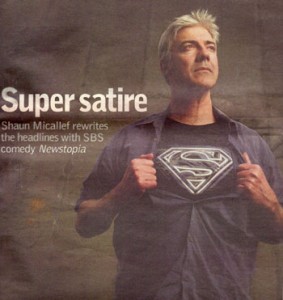 It was October 2007, and the industry was abuzz of a new show on SBS. Some were already comparing it to The Daily Show with Jon Stewart. But this was something unique – Australian, absurb and very Micallef.
Yes, it is 3 years since the first season of Newstopia began. "Shaun Micallef rewrites the headlines" was how The Age Green Guide described it. It was meant to debut during 2008, but was bought forward to coincide with the 2007 Federal Election. It would have no live-studio audience and could almost be mistaken for a real news show. And it would be a great platform to judge the news of the world because "we (Australia) have no control over it."
Described as the "luckiest unsuccessful" comedian in Australia by The Age Green Guide, Micallef was quoted as saying "I'm a white-faced comedian rather than a red-nosed comedian. I don't have baggy pants and a 'love me' attitude. If you want to find the joke, it's here somewhere. You just have to look for it." This goes some of the way why some people might ask: what's so funny about this guy. To which an equal number respond: everything.
Memories of Micallef Tonight still loomed, even 4 years later. And Shaun himself acknowledged some of reasons why it didn't work: his lack of experience, the overly-fast-past alienated some viewers – but he was still immensely proud of it.
During an interview, Shaun admitted "I do get depressed sometimes. But it's not a huge thing. It's really a very small dog. It's a chihuahua."
Shaun himself wasn't sure Newstopia would be his 'breakthrough' success (leaving "target demographics" to the bean counters); he would just try to be funny.