Top Ten lists are so cliché… and also trademarked. So here's a Top Eleven list of the best reoccurring characters we've seen on Mad As Hell:
11. Xanthe Kalamazoo (Veronica, Roz, Emily)
Mad As's in-house reporter and interviewer during the first season, Xanthe was a serious reporter who asked the tough questions like "What do people who aren't in the know think?". Her very recognisable vintage style, name and introduction made up for her changing face – all three actresses on the show took their turns during Xanthe's four appearances. Unfortunately, we never saw Tosh take up the role. Video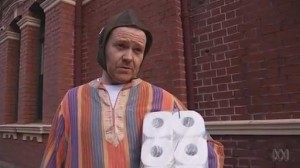 10. Lionel (Stephen)
Lionel originated as a non-speaking background character, but during some of the "Top of the Vox Pops" segments which appeared during the first season, got his chance to share his "views", while also inadvertently revealing his excessive toilet paper requirements. After this character, Stephen (one of the writers) soon became a full-time on-screen cast member.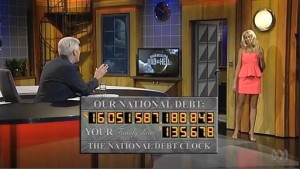 9. Jennifred Stoles – Economics Reporter (Veronica)
Introduced in the second season, Jennifred is a bubbly, young reporter, who is very knowledgeable on economics but curiously hasn't completed her VCE (or as Shaun refers to it, her "matric(ulation)") and still gets lifts home with her mum. The awkward relationship between her and Shaun due to their generation gap always creates some funny moments after she completes her "Mad As Economics" report. Video
8. Casper Jonquil – Talkback Caller (Tosh)
Straight from AM radio, Casper can complain about any topic, and most of the time will. What starts as an answer-come-complain to Shaun's question will easily drift into a mix of real and nonsense issues, in the spirit of the Monty Python Travel Agent sketch. All we know is he's not happy, especially about the lack of privacy his neighbours have while he watches through their window. Video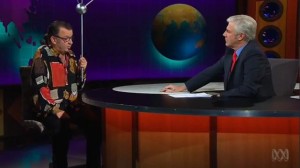 7. Ian Orbspider – Science Person (Francis)
With some obvious inspiration from Dr Karl, Ian is an overly enthusiastic science boffin who is usually responsible for debunking metaphors. He also attracts a lot of bad luck, from falling pianos to lightning strikes, although lately Shaun has been assisting him to tempt fate in the form of a lightning rod.  Video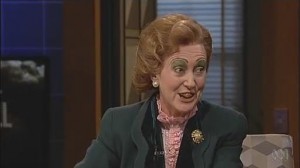 6. Gay March – Royal Watcher (Roz)
It was all things UK during the first and second seasons, as London held the Olympics, the Queen had her jubilee and general British things happened, so Royal Watcher Gay March, a stereotypical devout citizen, kept Shaun up to date in her affected, "endearing" manner.  Video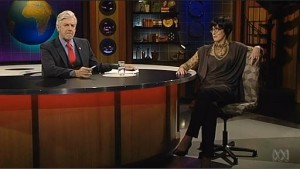 5. Vomitoria Catchment – Blogger (Roz)
A right-wing blogger in the style of Miranda Devine, Vomitoria brought some *balance* to the debate throughout the second season in the lead up to the 2012 Federal Election, along with her snarky wit, for which usually she was the only one laughing (or sniggering) to. She dropped by recently in her new role as Press Secretary to the PM, just to rub it in.  Video
4. Maggie Bathysphere – Sports Reporter (Emily)
Maggie and her revolving ABC sports team colleagues have been consistent on Mad As Hell throughout all three seasons, initially appearing in the commentary box at the London Olympics, before moving to Fisht Stadium Sochi (two years early) and now to Brazil ahead of the FIFA World Cup. Maggie's a true Aussie with her love of sport, particularly the female athletes, and is responsible for explaining the recent wins, losses and draws to sport-agnostic Shaun. Video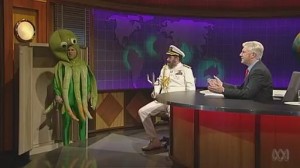 3. Vice Rear Cabin Boy Bobo Gargle (Francis)
Bobo first appeared as a Petty Officer to explain the  feasibility of the "turn back the boats" policy (before it was actual policy) and has since led his *credibility* to every "on-water" matter since, certainly providing answers as ridiculous as the context. Video
and The Kraken – Sea monster (Michael)
Usually called out by Bobo Gargle, The Kraken is usually RELEASED to the tune of Hey Mickey – it's Michael Ward's (one of the writers') time to shine.
2. Steve McCloud – Union Official (Francis)
There's very few who have managed to make Shaun quake in his seat, but Steve's ability to intimidate and impress his will on people without actually saying it directly is undoubted. His thinly veiled threats towards an "over-educated snow-topped TV nancy boy" put Shaun and his questions in their place, quashing any Mad As Hell investigation into union activity. After his initial appearance, Steve returned on the back of the recent union corruption inquiries. Video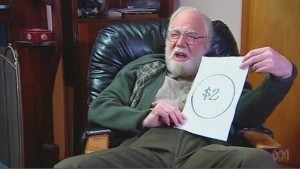 1. William Duthie – Elder with Wisdom (Shaun)
Shaun in character is always a highlight, and Bill is someone who has had plenty of life experiences, but barely remembers any of them correctly. In fact, put all of his experiences together and he's lived a few extra lifetimes: working at the mint, running the parliamentary gift shop, being an engineer on the Parkes Radio Telescope amongst them. He's everything we love about Shaun and his characters. Video
Special mention to Chloris Webbler, Undersecretary of Friends of the ABC, who just missed out, despite her many appearances – including in a Mad As Hypothetical and as a resident of Sponge.
Agree, disagree? Post your comments!