Not only has he acted on stage, performed in a one-man Indiana Jones show, been a quiz show champion and devised an app, Stephen Hall has both written and acted in Shaun Micallef's Mad As Hall. He gave me some of his time to chat, and here's the result:
---
Me: The last time we spoke, you were a writer on the show (the first series). What was it like transitioning to an acting role?
Stephen: Great! I'd done a few little appearances in the first couple of series, and I was writing, but I didn't get much stuff through. It was deemed I was better utilised in the cast, and I couldn't be happier, it's been fantastic. I've been performing longer than I've been writing in general, it's much more fun. It's much easier in terms of – with writing, as they say, just stare at a blank page and open a vein – you come in and do it, and it's different and fun every week, and hopefully you do a performance that's worthy of these brilliant scripts that keep showing up every week.
You've got a few recurring characters now, and one that's made a bit of splash in the media. Is it better to bring out a character repeatedly, or do you enjoy the one-off roles?
With Darius Horsham, which is based on an homage to Arnold Schwarzenegger – let's not deny it – it's great to come back and do new things with the character and see what other buttons we can push, and people have responded well to it. Even Mathias Cormann has responded well to it, evidently – he quoted the character, although some media would lead you to believe he quoted Schwarzenegger from a Republican Party convention 10 years ago. My money is on him quoting Mad As Hell, which quoted Schwarzenegger from 10 years ago, which in turn quoted a Schwarzenegger  sketch on Saturday Night Live. It's got a quite a long history. I'm just happy whatever comes my way, and if a character has been well received enough they think it's worth revisiting, that's a great compliment. Then again, new ones come along I think "I hope I can make this worthy of being a re-occurring character". I can't tell you [when I'm doing a character for the first time] whether it was received well, because I have no perception of how the audience is reacting, because I'm concentrating so hard – I'll watch it [when it airs] and see it for the first time, which will be interesting.
There's a lot of content in the lines, you almost need to watch each episode twice to get every second "beat".
Yes, and some of the lines go on for half-a-page, and that's part of the joke, that they are so complicated, which can make them very difficult to learn, but it's always a challenge. You don't get heaps of time, because you get the scripts on the Friday, Sunday or Monday for the Tuesday recording – it's a challenge, keeps you on your toes.
I think you and Francis are neck-and-neck on impersonations of Shaun and his characters. Is that something you enjoy, does it just come to you or is it delivered to you (as lines) as a great opportunity?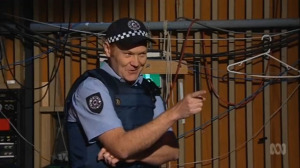 Yeah, it's great. Shaun came up with this AFP officer character Tony, who is a slightly overly enthusiastic fan of Shaun's, and quote him back to himself in various characters Shaun's performed over the years, and it's great fun to be able to do those impressions. One of the great things about the show is it does layer-upon-layer of jokes about itself and of itself. Every type of joke is a good joke, and that's one of them. I think Shaun enjoys me doing impressions of his characters in the show.
Shaun said that the first time he worked with you was on The Micallef Program, and you played a police officer who arrested the old guy who skipped the draft years ago.
I played one of them, I think there was two of us. I've played a few policemen over the years. In Welcher and Welcher I was also a security guard when Shaun had to empty his pockets as he entered the family law court. But, that would have been the first time I guess. Shaun was in the cast and writing on Full Frontal in 96/97, and I was starting out as a writer then. I hadn't performed with him then, but he did kindly appear on our Channel 31 show way-back-when as a guest, Under Melbourne Tonight, that might have been the first time on camera together. But in The Micallef Program, it was a surprise arrest of a guy from dodging the draft 40 years ago, and we just chased him off the set!
You also have a claim to fame as a quiz show champion – you've been involved in so many things!
If you want all the details, you can go to www.howtowingameshows.com. It's something I've been doing for over a year. [The win] was 2005, and that came after originally going on Sale of the Century in 1994, losing and not getting anything, back in 1999, losing and not getting anything at all, then when it was rebooted as Temptation in 2005, I thought "I'll get it right this time" and I did. It was the culmination of a long persistent, stubborn journey. That was amazing, and it was life changing.
I think I've seen the ending of the last episode, and it was nerve wracking, even if you know what happens.
Spoiler alert.
You win. And I love the concept of the app you've got, Step-By-Step Story, but I can't download it because I don't have an iPhone.
Down the track we'll be doing an Android app if demand allows for it. It's a two player game where you write a story, one paragraph at a time. It was a new thing I wanted to do, found out how to do it, hired the people to code it last year. We're persisting with that, going to keep on tweaking that, as Indy would say: "I'm making it up as I go." The response so far has been very good. It's for anyone who dares to believe that writing can be fun, and you can do it collaboratively with someone over long distances.
Collaborative creative writing would be more fun than doing it by yourself, because if you ever get stuck – staring at a blank page – the other person can pick the spark up.
Or you can drop your co-author in it, by killing all the characters – then over to you.
Maybe that explains Game of Thrones. Thanks for talking with us Stephen!