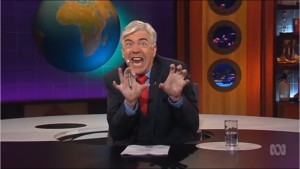 There is only two episodes left of this season of Mad As Hell, and sadly, also this year, as the ABC Light Entertainment budget can only stretch so far.
This is slightly strange, when you consider this week, the show was the top rated non-news show on Wednesday across all channels (6th with 782,000 viewers).
The good news is – the whole team and especially Shaun are optimistic about the show returning in 2016, believing it's in a good rhythm with plenty more steam. So it may soon be on break, but it won't be gone.