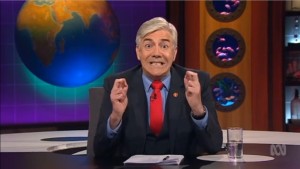 In exciting news, Shaun has let it slip to us that both Mad As Hell and The Ex-PM will both return to the ABC in 2017!
Shaun will film Series 2 of The Ex-PM early next year, which will probably mean the seventh (yep, you read that correctly) series of Shaun Micallef's Mad As Hell will slot in mid-year, and will make it Shaun's longest running television show (TAYG was 72 episodes).
Francis told us recently that Curtis is a character he really enjoys playing (more of that interview soon), so I'm sure he'll be looking forward to Dugdale's return.