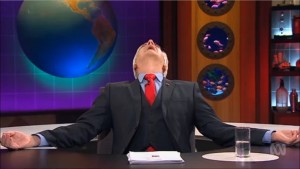 You still have a few days left to watch Mad As Hell Series 6 on ABC iView. I made a good attempt to write a re-cap of each episode, but you know, life….
Did you catch the funny EPG (the bit of information which shows on your digital TV) easter eggs again? Here's the ones for every episode I didn't get time to re-cap:
Episode 8
Investigating a string of murders in which the victims were all found bound in string, a detective wonders whether the deaths are the work of 'the String Killer'. Unsure, he retires.
Episode 9
On the anniversary or his wife's botched lobotomy, a lonely widower discovers that love has a funny way of turning up in the most unexpected places – like a toilet bowl, for example.
Episode 10
Biopic of Arun Singh, the Calcutta dust wrangler who taught Mother Teresa to box and, for a week in July 1963, was widely regarded as the handsomest man on Earth.
Episode 11
When a man accidentally runs over a gypsy's head, she places a terrible curse on him: for an entire year, he will urinate through his nose (after a year, it's back to the penis as normal).
Episode 12
Trapped underground, three miners keep their spirits up by playing songs to each other on harps. In a twist ending, it turns out the miners have been dead all along & they're actually trapped underground in heaven.