The Doctor ditched the TARDIS for the U.S.S. Enya on tonight's Sci-Fi Final Fantasy episode!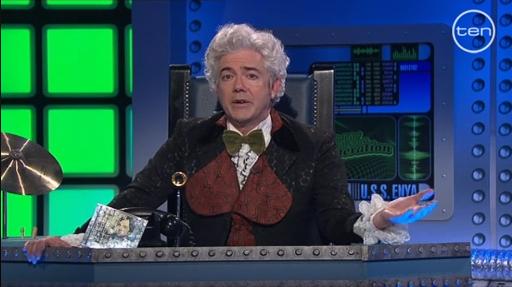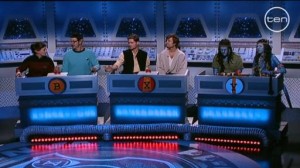 Shaun was of course dressed as Jon Pertwee's Third Doctor. The teams were Amanda and comedian Peter Burner (BB), as Lt. Saavik and Mr Spock from Star Trek; Charlie and musician Darren Hayes (Gen X), as Han Solo and Luke Skywalker (Star Wars); Josh and presenter Maude Garrett (Gen Y), as Jake Scully and Neytiri from Avatar.
The first games played were Human Fly, Chicken or Egg? and As Quick As, in which the timer was a bin full of ping pong balls combined with liquid nitrogen to create an explosive full stop!
The four buttons were all alternative planets: Earth 2, Altair IV (from Forbidden Planet), Solairis and Thundera (from ThunderCats).
Gen X picked Earth 2, which was Name That Tune.
The BB decided on Altair IV, playing Guess The Guest – who was Kate Richie.
Gen Y emphatically chose Solaris, riding on HG Wells' Time Machine.
The Your Gen topic was Metal! The end game envelope was delivered by Herbie the Lovebug, testing the theory of Which Generation is Best at Repairing a Space Station. The teams were all hung from wires as they attempted to repair their space junk. Gen X were fastest, winning Miss Karen's Baby Concert award from 1993, donated by Alicia Kissas.