Sydney and Melbourne have had the pleasure of seeing Shaun Micallef and Stephen Curry perform "Good Evening"; now it is Brisbane's turn!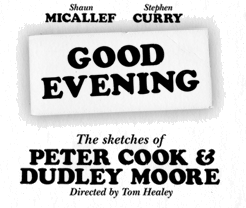 Good Evening is the sketches of Peter Cook and Dudley Moore, performed on stage in the traditional comedy revue style. Pete and Dud inspired a generation of comedians, including Monty Python,  Rowan Atkinson and of course, Shaun.
The show is on at the Brisbane Powerhouse from the November 3rd to 21st 2010. Tickets are on sale from 23rd August.
I saw the show during the Melbourne International Comedy Festival, and thought it was wonderful; from the still-fresh material to the superb performance. If you haven't seen it yet, make sure you do! I also recommend the program too (they are always slightly overpriced) – plenty of background information on Pete and Dud and the performers.
Thanks to Lucy for the heads-up!