In the lead up to the premiere of Mad As Hell last week, Shaun popped up on a number of Television and Radio shows to spruke his wares:
On Tom and Alex (starts at 40:40), Shaun revealed that his exposure to Barbra Streisand the last time he was on the show was what inspired him to incorporate it in TAYG. He also talked with listeners about what makes them mad.
He also appeared on ABC News Breakfast,  and spoke to Ian Henschke on ABC Adelaide.
If I missed any, drop a comment!
Shaun has written an article in The Sunday Age about his love of 20th century writer and humorist SJ Perelman, and how that love has translated into the search for rare works, books and… a suitcase.
When will shows learn not to have Shaun on live? Well, it's good for us, as usually it's a lot funnier. On Ten Breakfast the other week, Shaun was meant to debate the generation divide, but ended up reorganising the studio and being generally hilariously disruptive.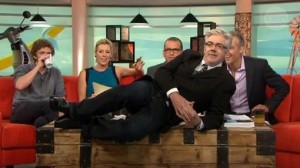 Watch it here, starts at about 1minute in.
Anton Emdin has a comic strip series where readers submit their questions, similar to an 'agony aunt' column. The twist is that different celebrities answer these questions and the results are then wonderfully illustrated by Anton!
This week, Shaun answers a question from 'Wiz' about the nature of being one-upped!