Talkin' 'Bout Your Generation

In 2009, Shaun became part of the Channel Ten 'stable of talent', and rumours began on what project he would be involved with.
It was Talkin' 'Bout Your Generation, created by Grenada Television. The show is essentially a game show with three teams, one for each generation of viewer: Baby Boomers, Generation X and Generation Y. The teams answer questions through rounds, gaining points depending on their knowledge, sometimes generation specific. Finally, there is an end-game (usually worth the same number of points as the gap between 3rd and 1st place, so "anyone could win"), to see which generation is best at… some sort of challenge. eg. building a bed, making wine etc..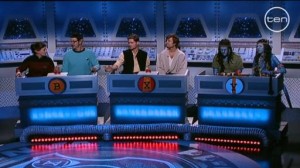 Each generation has a team captain, and through-out the series, they have been Amanda Keller (BB), Charlie Pickering (X) and Josh Thomas (Y). Every week there is a different guest per team who is a representative of that team.
While the show is more mainstream than many of his previous ones, Shaun's absurdist, garden-path, fun sense of humour still prevails and often gets a good laugh from the team captains. As the series' continued, Shaun's influence became more obvious – the introduction of a Meerkat, which popped up randomly, the sudden burst into Barbra Streisand by Duck Sauce, the presentation of 'The Best of Jim Nabors'.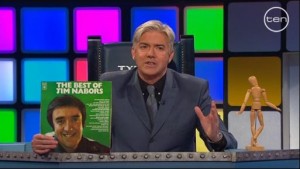 Series 1 ran on Tuesday nights, for 18 episodes from the 15th May 2009. Series 2 moved to Sunday nights, with 10 episodes running from 7th February to 18th April 2010, with the final 12 episodes starting on 1st August 2010. Series 3 ran for 18 episodes during 2011, including a planned mid-series hiatus. In true Channel Ten style, the show moved between Tuesday, Wednesday and Sunday nights throughout the year.
At the end of the third series, there was some talk that the show wouldn't return, with Shaun's involvement the concern. This was finally resolved, and TAYG returned for a fourth (and perhaps last) series on Wedneday 1st February 2012 at 8pm, for 10 episodes.
After the fourth series, Shaun confirmed in a few interviews that the TAYG cast had pretty much moved on, and the show had wrapped for good – but Shaun was pretty proud of the 74 episode run.
3 Responses to "Talkin' 'Bout Your Generation"
Conrad dunn Says:
April 19th, 2011 at 10:51 am

Hi I'm trying to contact josh Thomas I want to paint his portrait for next archibald I'm an unknown artist in noosa unless someone else is already painting him I just need his okay I can use a pic of him, I'm an abstract artist it would be aprox 2 m sq thank you conrad

Stuart Says:
April 22nd, 2011 at 8:54 pm

Best way to contact Josh is via his Twitter – http://twitter.com/#!/joshthomas87

bella Says:
January 30th, 2012 at 3:44 pm

i love the show but, i think they should include all the generations on the show. Gen z is not that well known and had it not been for my favourite magazine and my mother , i would never of known that i waz apart of this amazing generation .! they need me or some one from the gen on the show to stir up trouble ,and side with, and give josh thomas some support when the other gens start to pick on him .
Leave a Reply