When the ABC announced its 2012 line-up in November 2011, one name really stood out: Shaun Micallef. After last appearing on the national broadcaster almost 10 years prior, he would be returning to the place where he became a star in his own right with a new show: Shaun Micallef's Mad As Hell.

There was not much said about what the show was about, except that it would have a spin on the news. Questions abounded: would it be like Newstopia? What about Your Gen?
As Your Gen finished up, and the première came closer, more details were revealed. It would unashamedly build on the ideas of Newstopia, with sketches, character actors and interviews. But there would be some important influences from TAYG – mainly a studio audience and Shaun playing more himself and less of a character.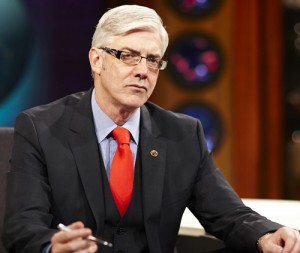 The first 10 episode series began on Friday 25th May 2012 to a warm critical response. It rated 664,000 across Australia, healthy for the ABC.
Each episode was shot at the ABC Elsternwick studios the Wednesday prior to airing on the Friday at 8pm (Shaun's old Micallef Program timeslot) to keep it relevant to the events of the week.
The ensemble cast includes Francis Greenslade, Roz Hammond, Emily Tahini, Veronica Milsom and Tosh Greenslade (no relation of Francis). Joining Shaun for the writing was most of the Newstopia team: Gary McCaffrie, Michael Ward, Stephen Hall and Tony Moclair. Yuri Woronschak composed the music, like all of Shaun's shows.
The second season was pretty much confirmed before the first concluded, and the show moved to a Wednesday 8pm time slot instead, with studio filming on a Tuesday. It started on 20th February 2013, running for 12 weeks. It continued many of the themes of the first, expanding some of the re-occurring characters, but involving less outside sketches such as the  "vox-pops."
The ABC renewed Mad As Hell for two seasons in 2014, with the third season of 10 episodes starting on Wednesday 12th February, and a fourth season (also of 10 episodes) which began on September 24th. Stephen moved from a writers role to on-camera, and the writing team was expanded to include Alasdair Tremblay-Birchall, David M. Green and Simon Taylor.
A fifth season of 10 episodes was a sure thing, beginning 11th February 2015, moving back half an hour to 8:30pm Wednesday nights. Veronica Milsom departed from the cast, having taken over the drive slot on radio station Triple J.
In 2016, the show returned for 12 episodes and its sixth season, with Nicholas Bell joining the ensemble cast (for the season). For the first time, the whole season was positioned during a Federal election campaign.
Season 7 followed with 12 episodes in late 2017, and two seasons of 13 episodes in 2018.
Links: