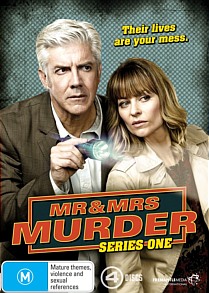 Now that we've been treated to the full 13-episode series of Mr and Mrs Murder (without a timeslot change either!), you can now get all the episodes on DVD… as of 19th June.
Pre-order from JB Hi-Fi or your favourite DVD retailer.
.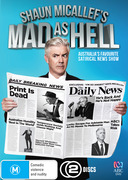 Strangely enough for a topic news show, the first season of Mad As Hell is making its way to DVD. It's available from this Wednesday 3rd October from most DVD retailers or the ABC shop. We're not expecting any special features, but if you didn't tape it when it first aired, here's your opportunity to complete your Micallef collection.
.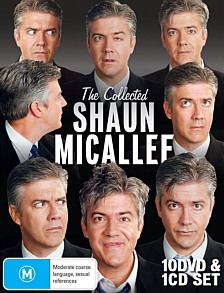 After rumours last year, finally The Collected Shaun Micallef DVD Box Set is now out in stores (also here)!
The box set includes 10 DVDs and 1 CD:
Originally, the box set was to include Shaun Micallef's New Years Rave, shown on Channel Ten at the end of 2009, but that seems to have been omitted. That means all of the DVDs (and CD) in the box have been previously released individually.
Another glaring omission is of course Welcher and Welcher, which was released last year.
It has been eight years coming, but the very clever sitcom written and staring Shaun, Welcher & Welcher, is now available for you to watch over and over in the private space that is your own home.
The only special feature is outtakes, but the series itself is worth it for any Shaun fan.
So get to your local store (or online*), exchange your cash for a plastic disc in a plastic box, put the disc in the thing that looks like a cup tray and prepare to laugh and laugh. And cry. Then laugh again.
* Spotted at EzyDVD ($30) and JB Online ($25) – "Pretty Good for the Price!"
That hilarious sitcom written by and starring Shaun is coming to DVD! Also starring Robyn Butler and Francis Greenslade, the show was set in a law firm and followed the misadventures of Quentin Welcher.
Madman is listing the release date as June 16th with commentary by Shaun to be confirmed, so here's hoping!
You can still find the original website for the show here.
What were your favourite moments from Welcher and Welcher? Leave a comment!