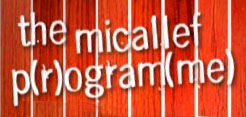 After Full Frontal finished its run on Channel 7 in 1997, Shaun Micallef had made a name for himself. However it was his move to the ABC, and his own show The Micallef Program, which really proved he was on our screens to stay.
The Program was a half-hour sketch show, airing at 8pm on a Monday, under the guise of a variety show; Micallef portrayed a character of himself as host, holding 'mock' interviews, interacting with the audience, holding strange game shows and competitions. Between these in-studio segments were some hilarious, absurd and fantastic sketches, many of which with a very Pythonesque influence.
The show was a co-production between Artist Services, the ABC and Micallef's company Straight-to-Video Productions, and because Artist Services was involved, Micallef could carry over the best of his Full Frontal characters, which the production company owns. (ref)
From Full Frontal, he brought his writing partner Gary McCaffrie and actor Francis Greenslade. Completing the original cast were Wayne Hope and Roz Hammond.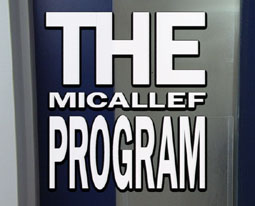 The first season (1998) of seven episodes featured some of Shaun's Full Frontal characters, such as David McGhan (as Dr Miracle MD), his Jim Waley impersonation and Milo Kerrigan. A number of popular comedy names such as Glenn Butcher,  Shane Bourne and Bob Franklin guested, including roles in some of the sketches. It was here Sotto Voce was first introduced, to be later part of Newstopia and his CD.  Shaun himself doesn't rate the season highly (hence it was released on DVD last), but it was popular enough to be renewed the next year.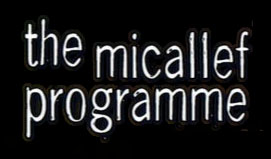 For the second season (1999), the show was renamed Programme – as Shaun points out in the first episode, due to the pedantry of ABC viewers insisting on the French spelling. Highlights of the second season included the introduction of Myron (a spoof of the cheap French-Canadian children's claymation shorts), 'What is a Polite Distance?', a number of clever political send-ups (including one on parliament question time) and the return of David McGhan – this time as DA Ferguson. The quality of the second season lead to a Australian TV award – a 'Logie' for Most Outstanding Comedy.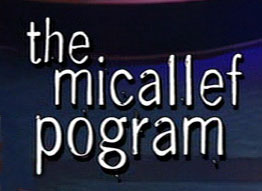 To continue the name gag, the third series (2001) was mis-spelled Pogram (unintentionally sounding very close to the word 'pogrom'). Daina Reid joined the cast. With a Logie under his belt, Shaun managed to easily add to the list of celebrities to be guests; including Andrew Denton, Tim Freedman (from The Whitlams), Sigrid Thornton and John Clarke. This season again picked up the Logie award for Most Outstanding Comedy.
The program still stands today as an Australian TV highlight and is much loved by all of Micallef's fans.
Season 3 Official Website: http://www.abc.net.au/tv/micallef/
Episode Guides: