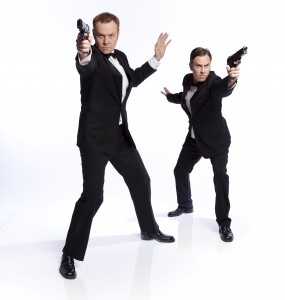 Stephen Hall and Michael Ward – both part of the writing team for Mad As Hell and many other Shaun related projects – are bringing back their stage show, Bond-A-Rama!
If you didn't think it was possible to fit 22 James Bond films into 75 minutes – you were wrong! It's all recreated, from the villians, the Bond girls. to the stunts and gadgets. Emily Taheny and Ben Anderson, both Micallef alumni, round out the cast.
I went to see it last year, and highly recommend it.  Whether you're a true James Bond nut, or have just seen a few of the films, you're going to enjoy this.
It's playing at Chapel off Chapel in Melbourne for 4 weeks from the 17th October, with a national tour expected next year. Book tickets early and get a discount

This weekend, the Sydney Symphony is performing the music of US composer John Williams, and Shaun will be presenting it – although he promises to be "sitting very quietly on a stool".
John Williams is perhaps best known for composing the score for the Star Wars films, which earned him one of his five Oscars, as well as Jaws, the Harry Potter movies and Jurassic Park.
In an article with The Age/SMH, Shaun also admits he is an "acquired taste" (which makes it all the more better), always changing roles or scripts to suit himself; and reveals that the favourite of his TV show themes is "The Micallef Programme" (which makes a great ringtone).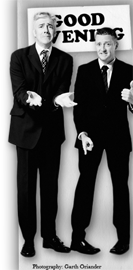 Tonight, Shaun and Stephen are in Perth, to begin what could be their last run of Good Evening. It runs until December 4th at His Majesty's Theatre, so don't hesitate!
The reviews have been fantastic; Shaun and Stephen are awesome; the material feels so fresh – if you're not convinced yet, you're in the wrong place!
In the lead-up to Good Evening starting its run in Brisbane, the Brisbane Times has an interview with Shaun on his career and approaching 50.
No real news, but worth a read if you have some catching up-to-do. There is also a video preview of Good Evening, shot when the show played Sydney last year.
Sydney and Melbourne have had the pleasure of seeing Shaun Micallef and Stephen Curry perform "Good Evening"; now it is Brisbane's turn!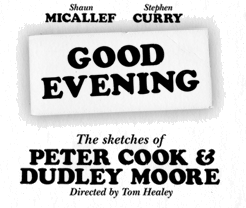 Good Evening is the sketches of Peter Cook and Dudley Moore, performed on stage in the traditional comedy revue style. Pete and Dud inspired a generation of comedians, including Monty Python,  Rowan Atkinson and of course, Shaun.
The show is on at the Brisbane Powerhouse from the November 3rd to 21st 2010. Tickets are on sale from 23rd August.
I saw the show during the Melbourne International Comedy Festival, and thought it was wonderful; from the still-fresh material to the superb performance. If you haven't seen it yet, make sure you do! I also recommend the program too (they are always slightly overpriced) – plenty of background information on Pete and Dud and the performers.
Thanks to Lucy for the heads-up!