With Mad As Hell finishing last Wednesday, and Mr & Mrs Murder next Wednesday, it looks like we're going cold turkey on Shaun for a while.
As alluded to at the end of the last MAH episode, there will be no more episodes before the federal election (September), which was mentioned at the end of season 1 as a possibility for new episodes. In fact, two sources at the show have advised there is no confirmation of a third season at all yet, but we remain hopeful.
Likewise, we have no confirmation on a second season of Mr and Mrs Murder – this probably depends on a number of factors, including funding and network support.
Shaun's been flat out since Mad As Hell first aired this time last year, going straight into filming M&MM then the second season of MAH, so most likely he's taking a bit of a break. Maybe to complete work on a new book?
[Edit: I didn't double-check my facts, and Mr & Mrs Murder is actually a thirteen week series - I originally suggested they had both already finished. Oops.]
The 2013 Molkies have happened, and The Person You Always Change Channel To Watch (also known as The Gold Molkie) is… Shaun Micallef. And Shaun posted a video thank you. See it all here.
The ratings for the first episodes of Mad As Hell and Mr and Mrs Murder are in: 625,000 and 936,000 – both respectable for their respective networks. We can only hope viewers stay loyal to these shows, especially Mr & Mrs, because Channel Ten has a habit of timeslot tinkering.

Starting Wednesday 20th, you will be able to watch 1 and a half hours of continuous Shaun (excluding ad breaks and the moments when he's off camera).
Mr and Mrs Murder begins on that night at 8:30pm on Channel Ten, following Mad As Hell, which airs at 8pm THE SAME NIGHT! (but different bat channel, the ABC to be exact).
If you've been living under a rock, Mr and Mrs Murder is a new comedy/drama starring Shaun and Kat Stewart, who are professional crime scene cleaners and amateur crime solvers. Read more here.
So just 2 more weeks till you get more Shaun than you could ever hope for.

Mad As Hell is back for its second season- and this time Shaun promises he knows what he's doing.
This year it has moved to Wednesday nights (from the original Friday night time), probably to line up with the ABC's traditional comedy night.
It returns 20 February 2013, Wednesdays 8pm on ABC1.
(Now I need to calm down from all this excitement.)
Not really news for us, but ABC has confirmed the return of Mad As Hell in 2013. The "what's happening in 2013″ video has a short mention of the show at the 6:55 mark. Hurray!
Shaun has been announced by the Australian version of GQ magazine as "Comedian of the Year" in their Men of the Year awards for 2012. Noted as the "silver fox", he is described as someone who "grafts the subversive to the obscure."
For someone who doesn't easily fall into the traditional "comedian" category, it's a great acknowledge for his wit and charm.
You can read the full story on the website or in the Dec/Jan magazine.
Filming is continuing on Mr and Mrs Murder at the moment, with reports that it's looking quite good. Channel Ten have recently announced their 2013 line-up, with Mr & Mrs being a major element.
As for whether TAYG will return, Josh Thomas has again confirmed the end of it via a tweet: "I keep getting asked…Talkin' 'Bout Your Generation isn't returning. Mostly because Shaun has run out of new ways to poor [sic] food on my head."
And with another season of Mad As Hell next year, there's plenty to look forward to. And maybe… another book… ?!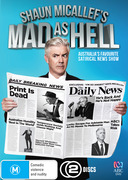 Strangely enough for a topic news show, the first season of Mad As Hell is making its way to DVD. It's available from this Wednesday 3rd October from most DVD retailers or the ABC shop. We're not expecting any special features, but if you didn't tape it when it first aired, here's your opportunity to complete your Micallef collection.
.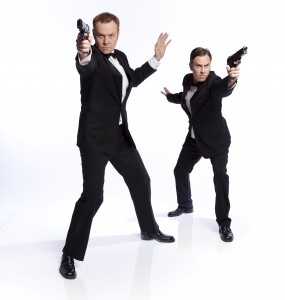 Stephen Hall and Michael Ward – both part of the writing team for Mad As Hell and many other Shaun related projects – are bringing back their stage show, Bond-A-Rama!
If you didn't think it was possible to fit 22 James Bond films into 75 minutes – you were wrong! It's all recreated, from the villians, the Bond girls. to the stunts and gadgets. Emily Taheny and Ben Anderson, both Micallef alumni, round out the cast.
I went to see it last year, and highly recommend it.  Whether you're a true James Bond nut, or have just seen a few of the films, you're going to enjoy this.
It's playing at Chapel off Chapel in Melbourne for 4 weeks from the 17th October, with a national tour expected next year. Book tickets early and get a discount