With Mad As Hell finishing last Wednesday, and Mr & Mrs Murder next Wednesday, it looks like we're going cold turkey on Shaun for a while.
As alluded to at the end of the last MAH episode, there will be no more episodes before the federal election (September), which was mentioned at the end of season 1 as a possibility for new episodes. In fact, two sources at the show have advised there is no confirmation of a third season at all yet, but we remain hopeful.
Likewise, we have no confirmation on a second season of Mr and Mrs Murder – this probably depends on a number of factors, including funding and network support.
Shaun's been flat out since Mad As Hell first aired this time last year, going straight into filming M&MM then the second season of MAH, so most likely he's taking a bit of a break. Maybe to complete work on a new book?
[Edit: I didn't double-check my facts, and Mr & Mrs Murder is actually a thirteen week series - I originally suggested they had both already finished. Oops.]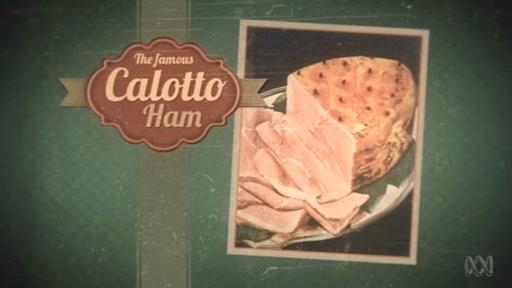 For every visitor to this site, a free Calotto Ham is on its way to you!**
**Your address must be registered at the Vomitoria Catchment blog.
We've now been treated to 10 solid weeks of back-to-back Shaun each Wednesday, with Mad As Hell followed by Mr and Mrs Murder. But that unfortunately means we're down to the last 2 weeks of both shows (what a coincidence?!). Knowing Shaun and the writers, we're in for some really enjoyable moments.
What have you enjoyed so far about either show, and which would you most look forward to returning?
Not usually one to opine on this website, I did get an email from someone who quite strongly felt that tonight's Mad As Hell disrespected the ANZACs, and I felt it was worth discussing.
The issue was probably due to the opening sketch and the interview with Francis's character. (Hopefully I get around to fully re-capping it) In the opening sketch, soldiers were being told they were landing at ANZAC Cove on the 25th of April to honour the memory and skill of footballers (for which the soldiers felt unworthy) – basically a reversal of the real life situation where footballers play a "blockbuster match" to honour the ANZACs. With Francis's character, I felt the intent was to lampoon the way the events of the day itself can be not in-keeping with the spirit of the day. (By the way, I don't usually sit and analyse the show so much – this comes from thinking about why I was chuckling when I watched it).
Whether or not the sketches will get any publicity is uncertain, but with its proximity to ANZAC day, it's a small possibility - emotions will be strong. It's something satirical material can easily become victim of: the audience misunderstanding the point due to a strong reaction against it. In some ways, it's a good thing that people have the moral compass to reject it, but obviously it causes conflict with the writers actual intent.
It happened to The Chaser with their Make a Wish sketch, but I felt even then, the satirical point wasn't strong enough to make it appropriate. In MAH's case, I actually agree with the points – I've never understood the ANZAC day blockbuster, when we don't play football on Good Friday. Actually, I felt the whole episode tonight was firing on all cylinders, and the team are really doing a good job now at satirising politics, culture and world events.
Sorry to blather, feel free to comment (but keep it constructive)

This weeks episode was dedicated to the memory of Annette Funicello.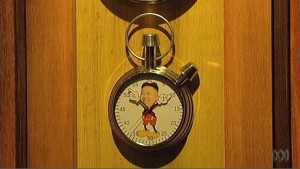 There was good and bad news from the yin and yang desk this week – joy over the closeness of the federal election, but sadness because the North Korea nuclear doomsday stopwatch says we're going to be wiped out in the next week or so. Kim Jong Il was just a loveable nutcase, but his son is not quite as amusing – a bit like the Pink Panther and son of Pink Panther. His threats are even impossible: "throw all enemies in the cauldron [and] break their waists…" – how do you break a waist, not to mention where do you get a cauldron without the internet?
In response, Beijing and Washington have been testing their defence hotline, which reporter John Garnaut described as "not quite… Dr Strangelove..". Shaun tested that theory with his own War Room round table, including Vice Rear Cabin Boy Bobo Gargle (Francis), who opined that North Korea couldn't reach the US with its long range missiles. But when Shaun suggested they could hit Australia, and Gillard had indicated her support for the South, Gargle went to call Lucas Heights. But Dr Strangelove himself (Shaun) had his own diabolical plan… involving poisoning meals and breeding Logie award winners down the bottom of mines.
Gillards message to China during her visit was clear and strong; buy our minerals and protect us from North Korea. Why go to China? With a 30% popularity rating, that means 403 million people still like you, plus the traffic is better than western Sydney.
Kevin Rudd was even further away, and described the situation with North Korea being like "a rerun of a bad 1930′s movie." Shaun wasn't sure what he was referring to (except maybe "She Done Him Wrong"), or how it related to his electorate, but if you do know, you can write in c/o the ABC – and possibly win some Annabelle Crabb sticks.
The government has committed 20 million to remake 20,000 Leagues Under The Sea (even though you can hire it for $3), but MP Ed Husic says he "doesn't need 20,000 leagues of sea", rather an MRI at Mt Druitt Hospital. Professor Ian Orbspider (Francis) says he's wrong, describing in a long-drawn out way how leagues cannot be a volume, plus $1000 a league is a bargain – if Ed Husic cannot see that, he needs his head read. Perhaps with an MRI, which he doesn't have. We only have to wait till May to see the Budget, and at a recent press conference, David Bradbury ensured the word budget was well used. And while budget was the key word, speculation was another one. Julia and Tony were in a speculation to-and-fro, feeding rumour and speculation. It's like if the human centipede
was a ringworm (no graphic available).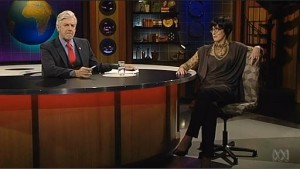 Vomitoria (Roz) says the Julie Bishop is extremely right by suggesting Labor is creating speculation on superannuation by not revealing information fast enough. Lily Dwarf-Planet (Emily) thinks the plan makes sense, ignoring the fact Labor leaked the plan it its usual cocked up manner, and that the speculation is caused by the media looking for any story. Lily asked Shaun to compare it to any of the oppositions policies, Vomitoria suggesting immigration when Shaun couldn't think of one, and how they have little to no detail at all with no scrutiny or speculation. And Vomitoria can only speculate that the coalition will win the next election in a landslide.
But the Coalition really do have a plan, and Tony Abbott has been clutching it in recent media events. Shaun thinks it's more of a pamphlet than a plan, and Shaun re-dubbed recent footage to make it more accurate. Brochure would have been fine too.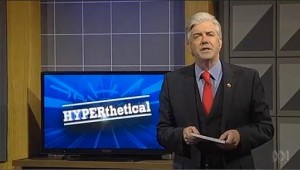 As part of a special HYPERthetical, Shaun raised the topic of Euthanasia. Abraham Plunkett believes in Euthanasia, and would hyperthetically have his mother, Chloris Webbler, euthanised if she was 93 and had in-curuable leprosy, and would take her to Belgium where it would be legal. Didi Dofnut, from Belgium's tourism council, would welcome them with open arms, but if she was hypothetically the Prime Minister and hadn't legalised euthanasia as promised, Abraham wouldn't take her. Chloris thinks hiking through the Arden would be a nice alternative. Barry Groans would hyperthetically resign her position if former Prime Minister Didi Dofnut, but former footballer Peter Astley wouldn't know what to do if he was George Pell acting as Didi Dofnut – his opinion would be untenable. Chris Crocker lept to his defence. Chloris thinks that it wouldn't be wise for her hypothetical self to be on a hiking holiday, even if she was to meet Peter as George as former PM Didi, and Waleed Aly thinks the trip might kill her. But as that's death by mis-adventure, it's legally OK. Solved.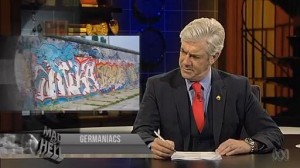 Shell is closing its Geelong oil refinery and moving production off-shore, but Capslock Pimento points out that Shell is an energy company, which is good, not an oil company, which is bad. He says they want to heal the earth, and feel terrible for the workers losing their jobs, who still want to produce a pollutant every day. If they could convert it to something that harnessed the sun's rays, they would. And if they can't sell it – they'll burn it and collect the insurance. ("Should burn like buggery too.")
In news from countries other than Australia, Indonesia has been advised by Australia that it has 5 Hercules aircraft for sale – however they only have 6 hours before the sale on eBay ends. In Germany, a remaining piece of the Berlin Wall has been spared as a monument to it being torn down – ?! And to reduce tensions with North Korea, the US has suspended a missile test – sure to upset the NRA. Shaun then deferred to two ambassadors over the the recommendations for all embassy to leave Pyongyang - Christopher Hill, a former US ambassador, and Golden Slipper ambassador, Tammin Sursok.
Maggie Bathysphere reported on the new FIFA goal line camera technology, which allows the precise position of the ball to be monitored between the umpire, the bookmakers, the moles and and insiders, who can then determine if it was a goal within 10 short minutes.
Before Shaun's Stemetil takes effect, he spoke to talkback listener Casper Jonquill about the plan to give kidney doners 6 weeks of paid leave, and he was outraged about the likelihood of exploitation by unwed mothers – he's been waiting 8 years for an arthroscopy he doesn't need, the CAA claim it's not their responsibility to fix his dripping tap and if they want purer blood, they should stop inbreeding.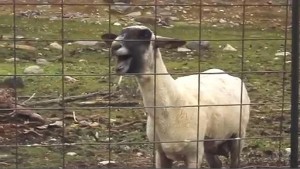 The screaming goat assisted with tonight's titles, and the audience was 100% Labor supporters – typical.
With the election 6 months away, Shaun feels as excited as Kim Jong Un preparing to launch a nuclear missile. And if the Korean war starts again, surely Channel Ten will use that as an excuse to replay M*A*S*H again. But Shaun loves Channel Ten, especially their programming department.
Even China thinks North Korea are being too militarily aggressive, and the "peace mission" headed by Dennis Rodman and the Harlem Globetrotters seems to have made things worse. Being a western democracy is the best bet, even if the UN or Amnesty are criticising your social benefits or treatment of asylum seekers… like Australia has been.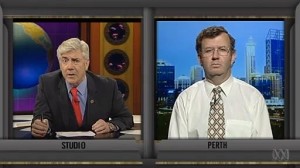 And in a practice launch for the September doomsday election, WA went to the polls and the Liberals came out as the victor. Political correspondent, Ronnie Hazelhurst, spoke to Shaun from the Perth studios, but most of the interview time involved waiting for Ronnie to think or realise there was a problem with the link – or possibly a problem with Ronnie.
Shaun's hero from the WA election was Henry Heng, who had produced a [real!] campaign video with a "very catchy" campaign. And even though he was beaten, Shaun think's the lessons here could be transfered to the federal campaign – "Tony, Tony, let's all vote for Tony…."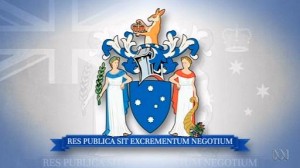 But politics really can be a "shitty business", as detailed on the Victorian Government's coat of arms. And with that, Victorian Premier Ted Bailieu was replaced this week with Dennis Napthine, despite Tony Abbott and Joe Hockey both saying "there is a world of difference" between this and the replacement of Kevin Rudd; instead of being knifed in the back, Ted may have fell on his own short sword after being pushed.
Victorian teachers have been locked in industrial action against the Victorian government over high pays. Esther Korg, Vice President of Australian Education Union, is upset that she has to organise 500 placards to be changed, not to mention the difficulty of making plays on the word "Dennis" instead of "Ted".
Later, Shaun will talk to a representative of Health Minister Tanya Plibersek on the ongoing argument between the states and federal government over health; specifically the blame game – what it is, who's playing it, and who's to blame.
Politics is about getting down and pulling voters out by the grass roots. Julia Gillard did just that during her week in western Sydney – she even knew that a car was a good start to reducing the road congestion. Clancy Lanyard is a Psephologist who isn't Antony Green, and has highlighted the electorates where Labour is in trouble – all of them.
The show was interrupted by a party political ad for the Labour party, or more accurately, a re-work of the old Whitlam It's Time Ad… Time for enertia, time to do nothing (Did anyone spot – Marty The Monster, Shane Jacobson, Red Symons, Mark Holden, Tim Rogers, Elise Platt). An ad for the ABC Shop peddled anything that was remotely related to the ABC.
Shaun got a call that running a pro-Labour ad was against the ABC charter, so had to balance it out. He gave the phone back to Anthony, who Instagramed and Facebooked the whole thing, walking away so intent on his mobile that he got hit by a train on the footpath?!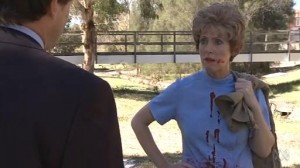 Periodontist Humberta Meule is running for preselection for the Liberal party for the seat of Hennesy, and spends so much time in people's heads, she knows what they want – to be rid of Labour. She. But Humberta feels the whole interview is full of ABC bias, and when the Liberals get in, they will shove the bitter pill down our throat without the sugar coating – then she went to drown some kit's tens.
Australia's population is getting older, and Jennifred Stoles summed it up as "old people are getting older, and that costs money." Casper Jonquil, a regular talk back listener, thinks any amount of money sounds like a lot of money. He's even contacted the council over the pot holes; and the school kids who come and go as they please. Simply, but he agrees to disagree. Perhaps the answer is to raise the retirement age, so that people will pay taxes to afford their own pensions. Shaun then made Jennifred feel uncomfortable by giving some old film references.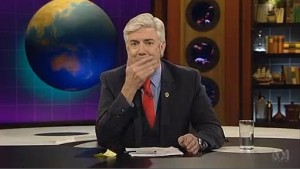 Japan's solution is to tell old people to "hurry up and die", but with such a huge trade deficit do they have any credibility. But the world has a bull market at the moment, so Shaun spoke to George Bailey from It's a Wonderful Life (ie. Shaun impersonating Jimmy Stewart). When the conversation became dull, Shaun deferred to Ricardo Goncalves from SBS who illustrated how a graph goes up and down, and Jennifred simplified it further.
All of this sounded like News from Countries other than Australia. The Vatican put a chimney on the Sistine Chapel for the election of the new pope, in a fuck-you to global warming. In Syria, the rebels are still fighting government troops, but managed to take down a statue of the leaders father – a major blow to pro-government pigeons.
Later on Shaun will talk to the MAH Chinese correspondent about the resignations of Wen Jiabao (When?) and Hu Jintao (Who?) in a Who's on First style conversation – the whole thing took 5 hours.
Finally, Julie Bishop said during the counting of the votes in WA that if Julia Gillard had campaigned there, it would have been a full 15% swing. But Liberal strategist Callista Spurntable thinks the federal election will be close – however, quietly she thinks they will win by a long shot, but can't express that to the electorate, because the voters will turn against them.
Whew… I've been so busy, I haven't posted many re-caps recently. Recent eps of Mad As Hell and Mr and Mrs Murder are on ABC iView and Channel Ten's site respectively. You can also catch-up on Shaun's radio appearances: on ABC 774 and Triple J, where the listeners chose for him to read the copyright message in last night's MAH as Yoda.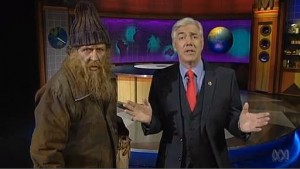 Shaun began the first episode of the second season by introducing us, the viewing audience, to the changes since last year – the move to Wednesday, which means the news is now half digested, not fully; the studio audience, who won't be seen, despite the chance of canned laughter, and the doomsday clock now counting to the election. And of course, the vagrant sleeping on the set, who was obliged to shout: "I'm as mad as hell, I'm going to take it for about half an hour."
The first story wasn't making Shaun mad, more in sorrow than in anger. But it was too late to rename the show "Shaun Micallef's Mellencholic as Hamlet"; as the cost of changing the titles was prohibitively expensive – the cost had been amortised over the 2 seasons.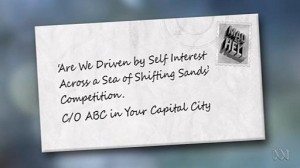 The subject was Sports People and/or State or Federal Politicians, who are both heroes, both being accused of taking something they shouldn't, facing corruption allegations, and both making up most of the TV news content. Two religious figures, who weren't involved weren't asked. But without religion to guide our morals, are we driven by self interest across a sea of shifting sands – send your entries into the competition. You could win a set of Juanita Phillips Head screwdrivers.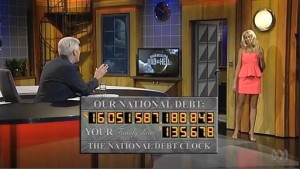 Are these shifting sands heading for the fiscal cliff? In the Mad As Finance segment, Jennifred Stoles, pushed the 'tortured analagy' further, describing the driving of the Fiscal SUV towards the Cliff, with Obama along with Wayne and Julia as the Fiscal Thelma-and-Louise. But if Obama gets his budget through, they'll go over in a Fiscal Hang-glider, but be still stuck in the Fiscal Chasm. Shaun just had one debt-related question – why are the US using a clock to count their debt – shouldn't it be a calculator?
In Australia, we have the burden of Freedom of Choice, unlike in Russia where you get up, walk through the snow, queue in line for hours, vote for Putin, go home and almost get hit by a meteor. We have a choice come election time, but no choice to have it. You can choose on policies, or purely on how you feel. So Mad As Hell is going to provide the shallow comparison as anything else would be boring.
Vomitoria Catchment compared the image of Tony Abbott to Barack Obama, but his impersonation wasn't thorough enough – where's the commitment. And in suggesting that a child was ignoring him due to the dropping of the school kids bonus, Shaun was worried they were getting too much into substance. Vomitoria pointed out you just had to watch him speak to see how riveting he is.
Julia Gillard has decided to wear glasses now, a concious decision to look more like Kevin Rudd. Casper Jonquil believes the stats are in her favour, as the last 15 PMs wore glasses, except for most of them.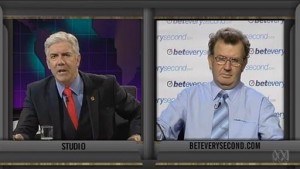 This years' election is important, so Shaun crossed to Ross Dropsheet at BetEverySecond.com to see how it was being gambled on. Craig Emerson has the shortest odds for being the politician to lose the election for the Labor party, whereas Cory Bernardi has extremely short odds for the Liberals. Everyone in the Australia Party is equally likely to lose it. Just remember to always gamble… (responsibly).
Maggie Bathysphere and the ABC Sports team returned, reporting from Russia ahead of the Winter
Olympics… in 12 months. Maggie told Shaun she was stunned and amazed by the recent findings by the Australian Crime Commission into the drugs in sport investigation. Tennis can be ruled out, because our players never win anything, so how can they be taking anything. Shaun hates the grunting in women's tennis, but Maggie has no problems with it. Even Organised Crime is distancing itself from Sport, to try to avoid tainting their reputation.
It turns out news does occur in places other than Australia, so a new segment: News From Countries Other Than Australia. Royal Watcher Gay March reported on the abdication of the Queen of Netherlands in favour of her son, and how Prince Charles is dropping hints to his mother. And King Richard was found under a carpark, but having exceeded his 2 hour limit, the owner has sent a bill to the palace. But they won't pay it – he was a Plantagenet!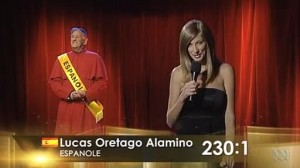 The Pope is Pooped, and Shaun crossed to Ginny Boem to discuss how a new pontif will be elected: a pageant, with rounds in national dress, glass confessional and bathing costume. We were treated to an advanced look at the candidates and their odds during one of their recent photo ops.
A new political party, Rise Up Australia, which is against multiculturalism, has recently formed. Shaun spoke with (or at) Ars Millionbeard now and earlier, asking if the Rise Up motto would appeal to zombies more than anyone. The Liberal Party's response was that resurrections would always be higher under a coalition government.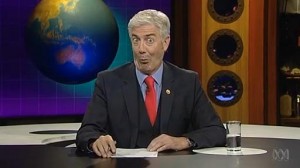 As a final word, Shaun was quite bemused by the little smirk given by Julie Bishop when talking about "sharing thoughts" with Kevin Rudd. She might be interested in giving him an "ambassadorship". If they were to get together, it might bring together the warring sides, like Romeo and Juliet. Or in a more modern context, like Avatar.
The ratings for the first episodes of Mad As Hell and Mr and Mrs Murder are in: 625,000 and 936,000 – both respectable for their respective networks. We can only hope viewers stay loyal to these shows, especially Mr & Mrs, because Channel Ten has a habit of timeslot tinkering.

Mad As Hell is back for its second season- and this time Shaun promises he knows what he's doing.
This year it has moved to Wednesday nights (from the original Friday night time), probably to line up with the ABC's traditional comedy night.
It returns 20 February 2013, Wednesdays 8pm on ABC1.
(Now I need to calm down from all this excitement.)