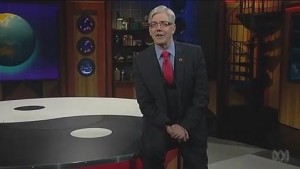 On this day, May 25th 2012, 10 years ago, Shaun Micallef's Mad As Hell debuted on ABC1. It was announced with not much more than a title and a little bit of publicity – but we knew Shaun was coming back to the ABC and it was going to be something good.
Shaun began with an introduction to clarify he was not going to be as mad as the opening titles suggested. He was going to be a conduit for our rage, he didn't take sides – as his round, yin-yang desk proved. And then he got straight into politics – a story on troubled MP Craig Thompson, although mostly sending it up with word play. We recapped the whole show at the time.
Since that time, Shaun has stopped wearing his glasses and the show has slowly become more sure of itself, moving more firmly into being a satire of what's happening in the news and focusing on the in-studio characterisations of the news makers. But it has remained packed with jokes, from the left shoulder graphics and captions, to the one liners, to the characters, to the description of the show on the electronic program guides… You can honestly watch each episode multiple times and pick up on new jokes. No Australian comedy show has remained this consistent, clever and funny for so long.
THANK YOU to the ABC for commissioning it and sticking with it, THANK YOU to the delightful cast and crew (who I've had the pleasure of meeting, and they really are quite nice), but most of all THANKS Shaun and Gary for giving us this wonderful show. We're looking forward to many more years.