Stephen Hall is one of the writers on Mad As Hell, not to mention a number of Shaun's other shows, an actor, and really nice guy. Last year, he gave me some of his time in the hallways of the ABC for a chat.
Before we began, Stephen indulged me in a "nerd-off" on the topic of James Bond – he being one half of the team behind Bond-A-Rama. We came to agreement that "The Man with the Golden Gun" had one of the worst theme songs. When that was done, the questions began!
---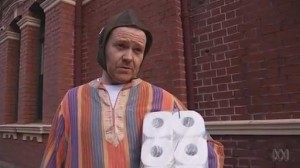 Me: I was going to ask if the writers ever get to say any lines, as previously you've appeared twice [in Mad As Hell], but tonight's episode (Episode 9) that was proved wrong!
Stephen: That character is called Lionel.
He was carrying a lot of toilet paper around.
You noticed that did you?

Starting Wednesday 20th, you will be able to watch 1 and a half hours of continuous Shaun (excluding ad breaks and the moments when he's off camera).
Mr and Mrs Murder begins on that night at 8:30pm on Channel Ten, following Mad As Hell, which airs at 8pm THE SAME NIGHT! (but different bat channel, the ABC to be exact).
If you've been living under a rock, Mr and Mrs Murder is a new comedy/drama starring Shaun and Kat Stewart, who are professional crime scene cleaners and amateur crime solvers. Read more here.
So just 2 more weeks till you get more Shaun than you could ever hope for.

Mad As Hell is back for its second season- and this time Shaun promises he knows what he's doing.
This year it has moved to Wednesday nights (from the original Friday night time), probably to line up with the ABC's traditional comedy night.
It returns 20 February 2013, Wednesdays 8pm on ABC1.
(Now I need to calm down from all this excitement.)
Last year, I had the enviable task of interviewing Shaun about his latest works. Unfortunately we ran out of time, so he kindly answered the rest via email… and through the busyness of last year – I forgot to post it!
So, as originally promised, part 2 of the 2012 interview: (some facts may have changed since first answered)
---
Me: You've traditionally been very private about your family and home life, what made you decide to participate in Who Do You Think You Are?
Shaun: I would never want to take part in a documentary about myself. I don't even like doing an interview unless I'm plugging something and I can do some shtick. Sometimes if it's someone I know well, I'll do it (like Tony Martin) but otherwise I just assume people really wouldn't be that fascinated by me blathering on about myself. It's okay on a website like this because people come looking for it – but on TV it's a bit different and has a slightly higher obligation to be a bit entertaining (sorry Stuart). WDYTYA was a bit different though: part history lesson and part travelogue. I thought it would be interesting and was surprised that I opened up emotionally (for me).
Your appearance on the show got such a response from people who felt connected to your story. Did you imagine that would happen?
I must admit I hadn't thought about that. I was amazed at the number of people who watched it, who actually knew my father. Quite a few people lived in the same street and remembered the bombing. My cousin contacted me (I have not seen her for many years) to tell me the two little girls who were killed (and who shared our surname) were, in fact, related to us. Very sad obviously. But the whole point of the series is to connect with people – and it did that.
Has what you found out in WDYTYA changed things for you and your relationships? (If it's not too personal)
Well, it did for a while – I was all charged up with embracing my family and looking up relatives I haven't spoken to in decades – but I have since reverted to my usual aloof self.
How long have you been planning Mr and Mrs Murder? Is there anything you can give away about it?
Mr & Mrs Murder was an idea Jason Stephens and I had a couple of years ago. We had been trying to hatch a project for myself and Kat for a while ) We'd both come up with Newstopia back in 2008 – along with Gary and Michael). There was a sketch show the ABC were interested in which turned out to be too expensive (the doctor-wants-your-husband's-bed sketch from MAH was written for the Pilot). Mr & Mrs is the one that TEN liked. Can't give away too much as TEN like thinking they are in charge and will get cross if I reveal anything…like that my character is a Martian and Kat's character is actually a robot. Oops.
Are you looking forward to concentrating more on the acting?
I'm always acting – even when I'm not on screen. But I am looking forward to just acting and not having to produce or write the show.
You worked with Kat in Newstopia, and obviously developed a bond. Was it a preference to work with her in a more dramatic role rather than having her join Mad As Hell?
Well, I loved working with everyone in Newstopia but we wanted to make Mad as Hell a new show – or as new as possible, given the type of show it was – and that is why we didn't use the same cast. I'd work with Kat in anything – the same goes for Nicholas Bell, Julie Eckersly, Ben Anderson and Peter Houghton. All brilliant.
Jenn asks: After a busy year with TAYG, MAH and Mr and Mrs Murder, will you be taking a break or are you keen to jump straight into the next project (or the next season of MAH?)
MAH returns early next year. Not sure what's happening beyond that. I may get time to work on my new book.
There have been a few in-jokes in MAH – such as the parrot sketch reference, the two iced vovos, the TV guide description mirroring Welcher and Welcher – do you (or the other writers) like to add them for those who'll notice them, or purely for your own enjoyment?
Michael Ward wrote the sketch with the dead parrot reference, Gary wrote the one with the iced vovos in it and I wrote the program descriptions. Personal tics and favourite references turn up all the time but are rarely the point of a joke or front and centre in a sketch.  I suppose it's a way of personalising the material. Gary's sketches tend to have characters named after SANFL footballers and be about form rather than character, Michael's tend to be mostly about characters who are idiots and mine involve me sitting at the desk, nodding.
Mr Griffiths asks: Where do you get your ideas for your sketches from?
There's an internet site we use.
Have you enjoyed bringing back old characters like Nobby and Milo?
In MAH we had some jokes which required an immensely stupid character, so I resurrected Nobby. Milo didn't make an appearance (unless you count Francis's impression of him in the last episode). I did notice that Nobby seemed a bit sad and lonely looking. My hair is now so white Nobby had to wear a beanie.
What does Gary think of these old characters returning!?
I think Gary was happy to see Nobby. He used to write the sketches for him when he was on Full Frontal. Hard to tell what Gary is thinking. He's so mysterious.
Has Mr William Duthie become a new favourite?
I liked him. Michael Ward and I wrote the sketches. He might have done his dash though as he became increasingly senile over his five appearances. Keen eyed viewers will note he looks a bit like a character I played in the Micallef Program who burns down a nursing home.
Alex asks: I'm all the way up here in Brisbane, and it's hard for me to get down to Melbourne, but one day I would love to meet you Shaun! Do you have anything planned in the future in terms of a tour?
Nothing planned as yet, Alex, but I'm always thinking about doing a stage show of some description – perhaps with Francis. I have the title: 'An Audience in front of Shaun Micallef (and Francis Greenslade) but no actual show written as yet.
Mardi asks: On the scale of one to ten, do you still have the superball I gave you?
Green.
Jenn asks: What is your weapon of choice in the inevitable zombie apocalypse?
Ka-Bar Black Cutlass Machete. Maybe also take out an AVO.
---
Thanks to Shaun for continuing to be pestered by my questions!
Not really news for us, but ABC has confirmed the return of Mad As Hell in 2013. The "what's happening in 2013″ video has a short mention of the show at the 6:55 mark. Hurray!
Filming is continuing on Mr and Mrs Murder at the moment, with reports that it's looking quite good. Channel Ten have recently announced their 2013 line-up, with Mr & Mrs being a major element.
As for whether TAYG will return, Josh Thomas has again confirmed the end of it via a tweet: "I keep getting asked…Talkin' 'Bout Your Generation isn't returning. Mostly because Shaun has run out of new ways to poor [sic] food on my head."
And with another season of Mad As Hell next year, there's plenty to look forward to. And maybe… another book… ?!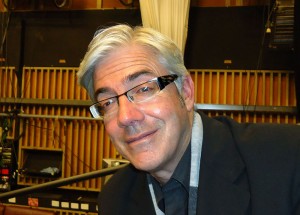 Shaun Micallef is such a funny, pleasant and gracious person – on his fiftieth birthday, and after finishing the filming of the penultimate episode of Mad As Hell, Shaun Micallef gave me some of his time to answer my (and your) barrage of strange questions.
---
Me: I wanted to start out to wish you a happy birthday – a few people in the audience knew it was your fiftieth.
Shaun: Thankyou.
It got mentioned in Who Do You Think You Are that you were coming up to that.
We did that about a year ago, in August (last year).
Do you have any plans on how you will celebrate your birthday? Obviously you're working on Mad As Hell at the moment, but maybe anything on the weekend?
No, it's not really something that if I even if I had the time I would actually set aside, I'm not a party person anyway. So, for me it's just spending a bit of time with the kids, which we did, we saw the Three Stooges film on the weekend. And my wife and I will go and see Barry Humphries tomorrow, so we'll celebrate it going and seeing things… being amused by other people.
Was The Three Stooges any good?
It was alright – it was fine.
It worries me a bit.
You can't be snobby about the Three Stooges, it's not like they ever had high art. It's sort of a low rent approach to the jokes, the Farrelly's didn't high tech it. It doesn't look like a Jim Carrey film, it looks like a Three Stooges film. It looks like 3, Three Stooges shorts tacked together, so there's a certain ramshackle, shit quality about it, but it works.
It's like maybe if someone did the 60′s Batman again (which got mentioned during the recording) today…
It might be a bit too self aware, that's the trouble with irony. There's no irony in this film, which is good.
Mad As Hell, how has it been working back to the ABC? The last time was of course Welcher and Welcher.
It was too. A very different show, although Welcher and Welcher was originally designed to be in front of a live audience, that's why the sets look so cross-arched, they look very theatrical. It was my first time writing a sitcom, I didn't write it properly. It was so complicated, there was no way it could have been shot in front of an audience. So we shot it like… I don't know what it was like. It fell between the stools I think, it wasn't quite farce, it wasn't quite drama, and it wasn't quite a sitcom. And because we didn't have an audience, it played faster, so we often finished 3 minutes down on time. So I'd be off writing another scene, or if I couldn't think of one, Francis and I would muck around, which we did a couple of times.
Is that how you ended up with the bin scenes and things like that?
Oh that was planned, but things like singing George Formby songs and Francis attacking me with a Frankenstein mask on, just a few bizzare endings were… and one show we book ended with as a memory because we were 5 minutes down.
So it was missing the pacing of the audience laughs?
Well it was too fast, because it wasn't riding the audience response and relaxing – it was quite fast. But anyway, I must admit I haven't watched it since it went to air, it's been many years now. I'll look at it again one day, I'll learn how to do a sitcom and have another crack at it.
The title Mad As Hell, was that a spur of the moment thing when you began talking with the ABC, or was it something you'd planned to do?
It was originally called Newsnight, which oddly enough is the title of the show on Channel Ten. They've decided to use Newsnight, which is an old English show hosted by Jeremy Paxman. And the ABC said it's a bit too straight, so Gary came up with Mad As Hell, which we thought was funny… Shaun Micallef's Mad As Hell, so we suggested that, they liked it and we went with it. Originally it was just going to be called Mad As Hell, and Shaun Micallef's Mad As Hell in the press materials, but it seems to have become… as much as I would prefer my name not to be part of the title… Myf Warhurst's Nice, Judith Lucy's Spiritual Journey… you put the comedians name up front – that's the franchise.
Were you always keen to get the Newstopia writing team back together? I know you worked with a number of them on TAYG, but was that always something you wanted to bring back?
I had always wanted to do a bit more with Newstopia, I always thought that it had been cut short of where it was going to go. Indeed the next step of Newstopia was going to be a live audience, and opened up. But we couldn't do it because of TAYG. I suppose we brought that approach of having a live audience, and… not softening the material, but making it a little more accessible. And one of the major differences between this and what we had in mind for Newstopia is that the material is a lot more domestic and obsessed with Australia. And we don't tend to do that sort of "let's make light of something serious and horrible" which is what we were doing on Newstopia, which you can do without an audience, quite easily without seeming cold and heartless. But if you do it in front of an audience, they'll either shrink from it, or they'll laugh and the folks at home will go "ooh that's a bit… you can't make jokes about that." Some of those jokes we did on Newstopia….
.. there were a lot of things in warzones and …
that's right, obviously being on SBS, we were obsessed with international news and on the ABC, we're not as obsessed, which is good I think.
Do you think that focus has come about due to the change in station?
A little bit, that's true. But also on the second episode we did a story about Syria, which would have been at home on Newstopia, and it just didn't feel right. And there were a few jokes that were sort of a little harder, and we thought "we just don't want to make that show, we want to make sure it doesn't look like it's insensitive." So therefore, apart from a few of those, we call them TJs, those three jokes where we say coming later on it's this, this and this, where we can deal with international issues very quickly without dwelling on it, we don't tend to deal with international stories at all. It's mainly… the obsession is the pettiness that is Australian news. Or occasionally, as we do with Sky News, just the way some Australian media reports things. Very rarely, because that's the Hamster Wheel's gig and we don't want to go into their territory, or even Jonathon Holmes' territory on Media Watch, so we don't tend to do that much. But we've done that 3 times, and we seem to be whipping Sky News, which I quite enjoy.
The cast, you mentioned (to the audience during the taping) it was a concious thing to mix up the age range…
I didn't want it to be an old show.
How did you come together? Obviously you've worked with Francis and Roz before.
That was the appeal, I would always do something with Francis, and it had been a while since I'd specifically worked one-on-one with him. Roz, I hadn't really worked with since The Micallef P(r)ogram(me), and I scratch my head now thinking "gosh, she's just so good, why wouldn't I use her in everything?" The truth is, I enjoy collaborating with new people, and I think this show is bit of both. The certainty of Roz and Francis… just the pleasure of working with them. I'd seen Veronica on the Ben Elton show, Live From Planet Earth, and I thought she was fantastic in it. Quite coincidentally, Andrew Denton recommended her because he worked with her on Hungry Beast. And Veronica and I corresponded, and we auditioned, and I think she's fantastic. Emily, Gary had worked with on Comedy Inc, when he was writing for Comedy Inc, and I thought she was great too. She was almost in Newstopia, we almost approached her to be in Newstopia, but I think was doing Comedy Inc at that time. So that was nice to work with her. And Tosh Greenslade, is actually… I think this is his first TV, in fact I'm absolutely sure of it. Francis worked with him in theatre, and recommended him, not just because of his name. And he's great, I mean he's really good.
It has been mentioned, "there's nothing about him" and "where has he come front?" And you had to press release a few times that he's not related to Francis.
It's just an unusual name, and for it to turn up twice in a credit roll begs the question doesn't it?
And this question got answered (in discussion with the audience), will there be another series of Mad As Hell – you've said yes, absolutely there will be.
From about mid-February on.
So next year. And you're hoping (another) for the election later next year?
I hope so. I'm doing a drama, so we'll see if that's shooting or not.
More generally, something I have noticed with some of your work you do, I noticed it on TAYG, even with Tom and Alex (on Triple J), you're very good at slowly unleashing the absurd-ism. On TAYG, you were a little bit straighter to start with, and slowly the Meercat came out, and the use of the Blue Juice music, and on Triple J it only took a 3 or 4 weeks before you were playing sound effects on tape decks. Is that a concious thing, or does it just happen that way?
Oh I think it happens, but it's different though. On Talkin' 'Bout Your Generation, I was a hired gun to front someone else's show. So the process was a bit slower, but once you're in charge of the writing you can start to bend things. You could argue that the more absurd it got, the more alienating it got for certain members of the audience – maybe not, I don't know. I think I just started to get comfortable with it. It's not a concious thing. You can see it with the development of this show, it's quite odd now. We're back in the world that we always inhabit, we start bending the edges and playing with the transitions. The content is always there, make sure all that fun doesn't overwhelm the content, it still has to mean something and be about something. It's a particular song, with a particular bunch of lyrics, but the way we sing it is peculiar to us I think.
And when I'm guesting on things, like Tom and Alex or Gordon Street Tonight or whatever, the agreement is always "we'll can I just have fun, can I do what I like?" And they're like, "sure, do what you want". Usually, but sometimes it doesn't work out that way, like the Channel Ten breakfast show.
That was hilarious, because at the time that happened, I noticed it, blogged about it, and a few people watched it, and then 2 months later it hit the Internet and people were saying it happened the other day. But it happened in March or the end of February.
I think people assumed it coincided with when this show (Mad As Hell) went to air, and thought it was a plug for that show.
But Your Gen was still on?
Yeah, it was about TAYG. It hadn't actually gone to air.
I've been reading your books, Preincarnate, The Moment, which I'm still not sure what to think, and your latest, Ahead of the Game. All of these had an element of time shifting in there, is that a subject that fascinates you?
Might be, yeah, I hadn't really thought about that, but I guess that's true. It's all about perception, which is a particular thing I quite enjoy. It might be because my grandmother had Alzheimer's, and over the course… I could see hunks of her memory disappear. So that might account for some of the stuff, that's all happening in the mind. Time travel… maybe I just like time travel stories.
Do you plan to write any more fiction? I know you said Preincarnate was to be your only novella.
I'm writing another book at the moment, but it might be another year or so before I get time to finish it, but that will come out.
---
And while Shaun ran out of time on the night, he agreed to answer more questions by old fashioned email. So stay tuned over the next few weeks, as I add the interviews with Tosh (Greenslade), Stephen (Hall) and the part 2 of Shaun!
While at a recent recording night, Shaun was asked about which of his old Full Frontal characters might also make a return, on the back of Nobby Doldrums being in the Vox Pops of Mad as Hell. As far as I can recall, here was some of his comments:
Milo Kerrigan, of course made a few appearances on TAYG, but Shaun recalls that a senior person at Channel Ten did say something to the effect of "he doesn't really work, we can't really understand him. It would be better if he could be understood." And so Milo stopped making appearances.
Fabio - age was Shaun's main reason for not resurrecting him, but did indicate they once planned to bring him back a few years ago. He would have been living in Rosebud and be known as the "most beautiful man… in these pants."
David McGahan – Shaun feels that this character really got merged into the TV personas he's portrayed as "himself". Besides, Gary (McCaffrie) would probably put a stop to any re-appearance – as he did during the P(r)ogram(me).
But he certainly still gave some great impressions of Billy Connolly, Michael Cane and Jimmy Stewart.
More seriously, he even commented: "Hidden away on SBS, with Newstopia, I got to play Kofi Anan, and no-one complained. It was beautiful makeup, I would have defied you to [guess it wasn't me], in fact I went home wearing it…. If you're playing a person, and you can play that person, I think that's OK. But if you're playing just a character of ethnicity, and that's the joke, I don't know if that's defensible."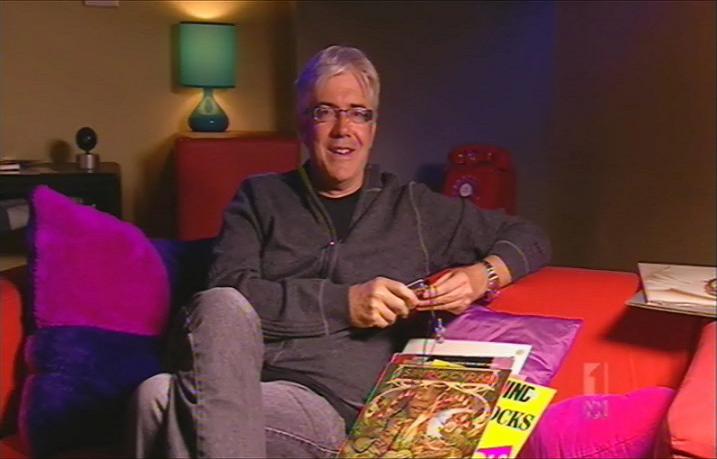 Shaun likened hosting Rage to plugging his MP3 player directly into the camera, and although he didn't have the Rage theme, they dug it up anyway.
THE RAMONES Pet Sematary – Shaun noted that Stephen King was a huge fan of The Ramones, so exercised his creative control to ensure their song was included in the movie version of Pet Sematary.
THE CLASH London Calling
THE ROLLING STONES Undercover Of The Night
DEVO Freedom Of Choice – The brothers from Devo are now responsible for the music of Rugrats, but this song from them contains some hidden philospohy, so get your notes – there will be a quiz!
YELLO Oh Yeah
THE B-52S Rock Lobster
IGGY POP and KATE PIERSON Candy
DUCK SAUCE Barbra Streisand – He can't explain his fascination with this song, but it was (obviously) used during TAYG, and the production company ended up paying over $50k of royalities – which was ok, because it was commercial television. On the ABC, you get paid in used stamps.
DAFT PUNK Da Funk
THE DOORS Hello, I Love You (Adam Freeland remix)
THE CURE In Between Days
ELVIS COSTELLO Pump It Up
ELVIS vs JXL A Little Less Conversation
EDWYN COLLINS A Girl Like You
DURAN DURAN A View To A Kill – In Shaun's opinion, A View To A Kill was the last best James Bond film, not least because of the music. He just hopes that the line "My name's Bon, Simon Le Bon" is kept at the end of the clip. (It was.)
A FLOCK OF SEAGULLS I Ran
DEAD OR ALIVE You Spin Me Round (Like A Record)
BILLY IDOL White Wedding
YES Owner Of A Lonely Heart – The LP cover is quite boring, and so is the rest of the album according to Shaun – he bought it based on the single, and assumes the rest of the album was produced by someone else. The orchestral jabs are good though.
THE CARS Hello Again
EURYTHMICS Would I Lie To You?
HUEY LEWIS AND THE NEWS The Power Of Love
BILL WYMAN Je Suis Un Rock Star – Shaun has so many songs he would love to play, including the Rolling Stones, so for a perverse reason he chose Bill Wyman's solo song.
PSEUDO ECHO Funky Town
NEW ORDER Blue Monday
MI-SEX Computer Games
LEFTFIELD/LYDON Open Up
SEX PISTOLS Pretty Vacant
THE PRETENDERS Message Of Love
MIDNIGHT OIL U.S. Forces
THE JAM A Town Called Malice
THE STYLE COUNCIL Walls Come Tumbling Down
THE MIGHTY MIGHTY BOSSTONES The Impression That I Get
TOM JONES Sexbomb
OLIVIA NEWTON-JOHN Heart Attack – Shaun's a little embarrassed he bought Olivia's best of – forgive him? He decided on this rather than Physical, seems like a natural progression.
MARILYN Calling Your Name
PLASTIC BERTRAND Ca Plane Pour Moi
TOTO COELO I Eat Cannibals
HAYSI FANTAYZEE Shiny Shiny
PETER GABRIEL Shock The Monkey – There was a movie called "Project X" about Matthew Broderick rescuing a monkey from the space program, and this song was used in the opening credits. Shaun warns that the original film clip was "very weird" just like Peter, and Genesis was better off without him.
ART OF NOISE Dragnet
A-HA The Living Daylights
ENYA Orinoco Flow
EUROGLIDERS Heaven (Must Be There)
SADE Smooth Operator
SKIPPING GIRL VINEGAR Chase The Sun – Shaun walked past the edit suite just the other week while the band was putting this together, commented how good it was and promised to put it on Rage when he programmed it…
SPLIT ENZ Message To My Girl
THE STRANGLERS Golden Brown
KATE BUSH Babooshka
THE BANGLES Walk Like An Egyptian
STEPPENWOLF Born To Be Wild
METALLICA Enter Sandman
NINE INCH NAILS Closer
CLIFF RICHARD The Millennium Prayer
ELTON JOHN I Guess That's Why They Call It The Blues
There was also a sneaky 1 hour preview on Saturday morning (which I missed), but the following songs were played which weren't repeated that night:
DEPECHE MODE Just Can't Get Enough
FATBOY SLIM Weapon Of Choice
FINE YOUNG CANNIBALS She Drives Me Crazy
ABC Poison Arrow
DAVID BOWIE Fashion
KASABIAN Fire
How many songs can you link to Shaun's previous work?
Will wonders never cease? In another ABC cross-over, Shaun is to guest program music video show Rage next Saturday night, a role usually filled by fellow musicians.
They must have been impressed with Shaun's songs on 'His Generation' or his opinion on 'We Built This City (on Rock and Roll)' – "a flimsy construction method if ever I heard one". Perhaps we'll get some Sade? Or Duck Sauce?
It starts 11:25pm this Saturday night – the playlists will be posted on the Rage website on Friday.