Stephen Hall is a man of many talents, as well as being is really lovely person. On Mad As Hell, he plays Darius Horsham, Crane Girdle, Donald McEngadine, Wendell Vestibule and so many more. He gave us some of his time to answer questions about Mad As Hell and what's coming next.
You've worked on Mad As Hell since it began, originally as a writer – what have you enjoyed most about being part of the show?
So many things! The opportunity to do what I do – comedy acting – in so many roles and guises. The chance to explore and play, and to hone and tweak my skills. The camaraderie of working with like-minded souls. Speaking Truth To Power on a widely viewed platform. On those occasions when (out in the real world) the bad guys are winning, it feels SO good to give them a public kicking! I'm very proud to be part of something that's of such consistently high quality – in each and every department – week in, week out. And of course, it's always wonderful to make people laugh.
Do you prefer or enjoy recurring characters or the chance to try out a new character?
If I'm given the opportunity to do a character more than once, that tells me that something about it struck a chord. So that's a win! Then, when I'm performing it on subsequent occasions, I'll always try to improve it, grow it, and see where I can find opportunities for more laughs. But it's also always great to be handed a new challenge – to get a script where the (new) character description is just a line or two ("he has an air of ______ about him"), and then get to work on choosing characteristics and creating something that'll serve the script as best I can – I love that part of the process too!
The studio audience loves when Darius appears. Does that help build his character?
I don't really think of it in those terms. Darius is very much an Alpha Male; when I'm him, I'm just concentrating on barrelling through those wonderful, complex, densely packed scripts with as much speed, energy and swagger as possible, while trying to find new moments of silliness and playfulness with that ludicrous accent. And that cigar.
Who have been your favourite characters? (doesn't have to be yours)
There have been so many over the years, but standouts for me include Roz's characters Dolly Norman, Gay March, Mrs Cribbage, and Emily's Maggie Bathysphere, Jelly Cannister, Lois Price and (although it's not very PC to say this)… Cindy.
And it's always a joy to see Shaun in character mode – Bill Duthie, Mr Spon and of course the very occasional appearance of the mighty Milo Kerrigan.
You've played a few characters that Shaun had originally played, is there any trepidation to taking them on? Do you try to be faithful to his original portrayal, or just have fun with it?
Yes, that's happened a couple of times (with the characters of Bill Duthie and Mr Spon), and it's an INCREDIBLE compliment when Shaun entrusts those characters to me. I try to emulate his performance as closely as I can – studying and copying his inflections, rhythms and body movements. I'm quite forensic about it, as I tend to be with most impressions. There's a lot of analysis and study behind the scenes before the performance that the audience doesn't see. Of course, I know I'm not Shaun, and I'm not trying to pass for him… but the perfectionist in me wants the portrayal of the character to be as similar as possible.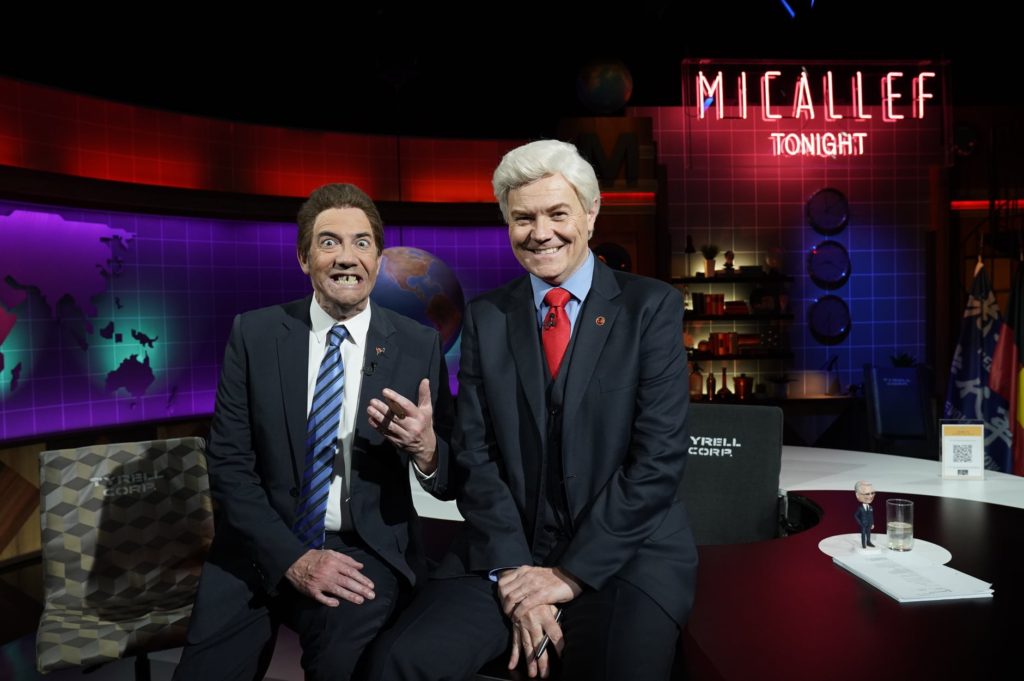 You've been a multiple quiz show champion (among other things). Do you still like to hoover up as much information as possible and stay match fit, or is it something that you'd have to prepare for?
Aha! No, I've become quite rusty on that front, I'm afraid. I do remain perennially curious, and when I come across any new facts that delight me, I do ‌consciously lock them away. But if I were to do any serious quizzing these days, I'd definitely want to put in some study beforehand. My official position on quiz shows and game shows is that I'm retired. Although that's not to say I could never be coaxed out of retirement… 🙂
What are you looking forward to working on next?
I have three projects in the pipeline that I'm really excited about at the moment. The first one's my next book: 50 Things To Be Seriously Grateful For Today* *and 50 not-so-serious things to illustrate them. (www.50Things.today) This is a hybrid serious/silly book that I've been working on for a couple of years now, and depending on when you're reading this, it's just about to come out, or it just has come out (check the website for details!)
The second thing I'm working on is a new one-man show for next year's Melbourne International Comedy Festival. It's called Letters to My Heroes, and here's the blurb:
For years, Stephen Hall (Shaun Micallef's Mad As Hell) has been writing to his heroes – the stars of stage and screen – asking for advice. Tonight, he takes us through all their replies, in this brand new one-man show, that critics are calling "a convenient way of stringing together a bunch of celebrity impressions".
And the third thing I'm working on is a play. It's a whodunnit with loads of gags in it. I've always loved whodunnits, and Agatha Christie, and although I included a whodunnit story strand in my novel (Symphony Under Siege) I really wanted to explore the genre further, in another medium. I've never written a play before, so I thought "why not?" I've worked out all the characters, and the killer's master plan, and I'm finding crafting all the intricate, puzzle making aspects of the thing really fascinating!
Thanks Stephen!