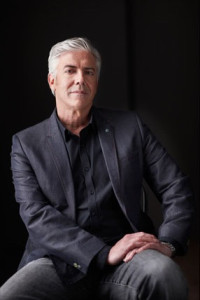 A little while ago, Shaun spoke (exclusively?) to this site about a number of things. Here's a selection of the topics and Shaun's responses:
Shaun was very happy with Mad As Hell season 3, felt it was a polished version of season 2. I asked if he's become more comfortable with the show and he agreed, saying the show feels like it has more of an attitude about it, and that adding more writers has assisted in making it a bigger show. The third series was also allowed to use parliamentary footage, which made for some great zingers.
I congratulated him on reaching four seasons for MAH, equaling TAYG. He agreed it's not something that happens often for him. Shaun nixed any chance of Talkin' Bout Your Generation returning, saying it had ran its course; everyone has gone off and done their own thing with plenty of success. The show was a good mix of being a bit niche and nerdy, but with a bigger pond of content. Shaun says he stayed neutral on the generations, and didn't pick on Josh because he was Gen Y  – it was because he was Josh.
Rosanne Barr did an international pilot version, but nothing came of it.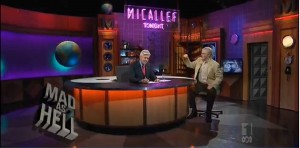 With the Micallef Tonight imagery and music appearing in Mad As Hell and Mr & Mrs Murder, I asked if 10 years made him more nostalgic about the show?
At the time, he couldn't watch the episodes again, but would have another crack if the opportunity came around. He felt the New Year's Eve special (on Channel 10 in 2009) demonstrated the concept had passed by, and couldn't be revisited. The sign was rescued from Channel 9 when they sold their Bendigo Street studios; it looks good, and there is no where else to put it.
Other tid-bits he revealed:
Gary (McCaffrie, his writing partner) wrote the jokes for ABC's New Year's special; Shaun just delivered them when they couldn't get anyone else. He wishes they kept some of those jokes for MAH!
He's been asked on Q&A, but declined because he doesn't really live and breath the news when MAH isn't on. He watches the SBS news usually.
His pop culture isn't really up to scratch; it stops at Blade Runner. For that reason he thinks he wouldn't make a good panelist on Dirty Laundry Live (although was the after party host once)
More to reveal from our chat with Shaun!