There's less than a week left to catch up on any (or all) of series 3 of Mad As Hell on iView – 9pm on April 30th to be exact.
Alternatively, watch back your favourite moments or play bingo using our Top 11 moments.
Alas, we've reached the end of another season of Mad As Hell, one which many have described as the best yet.
I had to give up the recaps after episode 1, mostly because they were taking 2+ hours per episode and it doesn't pay the bills. So instead, here's my list of the Top 11 Mad As Hell moments from Season 3: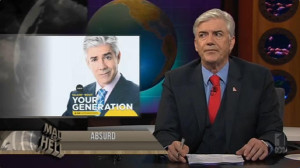 11. The battle with the Graphics Department
Shaun's ongoing "conflict" with the Graphics department continued, as they continued to use whatever Google Image looked closest to whomever Shaun was talking about. He waited patiently in Episode 7 for every image resembling Arthur Sinodinos to scroll through, and after Bronwyn Bishop was confused with Ursula from The Little Mermaid (Ep 8), he asked "Am I going to have to come up there?".
But it was after a clip of Andrew O'Keefe talking about Qantas (Ep 4) that he remarked "Why on earth do they let some ex-Game Show host report on the news?", only to be presented with a picture of himself promoting Talkin' Bout Your Generation.
10. Abbott speak
It began with Shaun comparing his speed saying "We are more than happy to take the shackles off Qantas" to Tony Abbott, and became a perfect deconstruction of exactly how politicians are now speaking to the media and the people that vote for them. Video
9. Shaun punishes advertising guru Flornoy Quimbie
Flornoy (Tosh) visited Mad As Hell a few times during the season, and took immense pleasure in sharing his advertising accomplishments, including the Coles "Down-Down" ads (which got him repeatedly punched to the face), the Budget Direct ads (which got him a cricket bat to the head) and the AAMI "Rhonda and Kutut" ads (which Shaun didn't mind). The simulated violence was a victory for everyone subjected to these inane ads.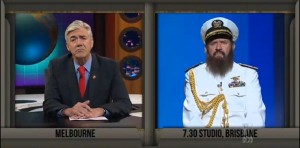 8. Bobo Gargle explains Operation Sovereign Borders
The biggest news story at the beginning of the series was Operation Sovereign Borders, and only Bobo Gargle could "explain" the navy's position on it. It was beautifully intertwined throughout the first episode, with additional appearances throughout the series, plus a visit or two from… The Kraken!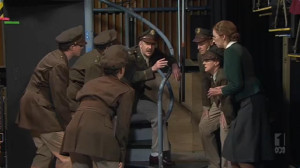 7. Recreating The Monuments Men
The cold opening for the sixth episode took the whole cast and combined the recent Biennale of Sydney controversies with the most recent George Clooney movie and a classic pythonesque tone: "There is no fucking punch line".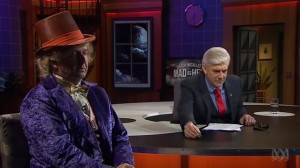 6. William Wonka visits
The Fiona Nash food rating website conflict of interest scandal prompted "Department of Health Adviser" William Wonka to appear as a guest, "explaining" there was no conflict of interest with a helpful video, followed by a homage to the 1971 movie. Video
5. Guest Stars
The promotions for the fictitious series "Paper Giants: The Trading Post" got a number of runs through the series, and like the real dramatisations of  Kerry Packer, featured a different actor portraying the man each time: Stephen Curry, Vince Colosimo and Claudia Karvan.
In the final episode, Maggie Bathysphere's sports team featured an all star cameo crew: Tony Martin, Glenn Robbins and Alex Dyson.
4. The Musical Finale
Shaun's musical performances are always a joy, and singing Devo's  "Beautiful World" was a perfect end to the series. Video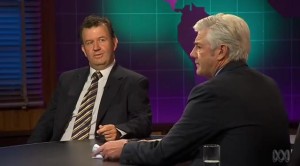 3. Shaun gets called a "Jon Stewart wannabe"
Union official Steve McCloud visited Shaun again to talk about union corruption, and used the opportunity to step up the veiled threats again "Shane": "If I was some perfumed, pedantic, Logie rattling, smug-arse Jon Stewart wannabe, I'd think very carefully about who I called intimidating." Of course, Shaun's long term ambition for Mad As Hell was for it to resemble Jon's successful The Daily Show. Video
2. The Beatles 50 Years Down Under
While they're unable to use real products or companies as on Newstopia, the fake promotions on Mad As Hell still do a brilliant job of lampooning the ABC's own programming. So the one in Episode 3 based on the repeated formula of playing black and white footage intercut with interview footage of the subjects talking about the experience, namely The Beatles, would have been funny enough. Throw twelve seconds of Shaun dressed as each of the Fab Four, and you've made one of the highlights of the series.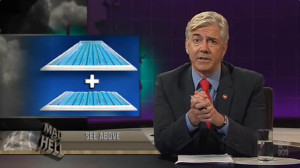 1. Swimming pools become a unit of measurement
It was in Episode 3 that Shaun noticed the media's love for comparing the amount of one thing with the amount of another random thing, usually swimming pools, but also MCGs and Eureka Towers. From the volume of tweets and emails, this captured everyone's imagination, and the use of swimming pools as a unit of measurement was then referred to frequently throughout the series.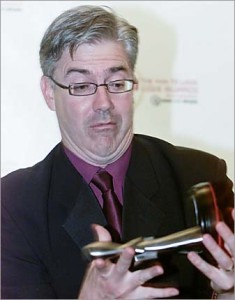 As previously reported, when all of the networks had to nominate their stars for the TV Week Logie "Most Popular" awards this year, Shaun was forgotten by both the ABC (for Mad As) and Channel Ten (for Mr & Mrs Murder), so became ineligible for voting by us, the loyal viewers.
To add insult to injury, neither Shaun or Mad As Hell were nominated in the "Most Outstanding" category, which is industry voted, although this is partly because comedy falls under the "Light Entertainment" category, so Mad As Hell was in competition with shows like The Voice. So basically, unless Shaun is a presenter – don't bother with the Logies this year.
However, Shaun did win the Gold Molkie – an award given out by the readers/visitors to Molks TV Talk, one of the most popular Australian TV blog sites. It was Shaun's third win in 3 years, and with 42% of the vote – a very convincing one. Mad As Hell also won "Best In Show", a testament to the quality of the show, especially this season.
Top Ten lists are so cliché… and also trademarked. So here's a Top Eleven list of the best reoccurring characters we've seen on Mad As Hell:
11. Xanthe Kalamazoo (Veronica, Roz, Emily)
Mad As's in-house reporter and interviewer during the first season, Xanthe was a serious reporter who asked the tough questions like "What do people who aren't in the know think?". Her very recognisable vintage style, name and introduction made up for her changing face – all three actresses on the show took their turns during Xanthe's four appearances. Unfortunately, we never saw Tosh take up the role. Video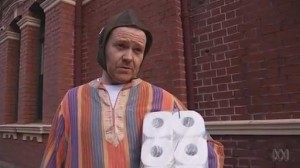 10. Lionel (Stephen)
Lionel originated as a non-speaking background character, but during some of the "Top of the Vox Pops" segments which appeared during the first season, got his chance to share his "views", while also inadvertently revealing his excessive toilet paper requirements. After this character, Stephen (one of the writers) soon became a full-time on-screen cast member.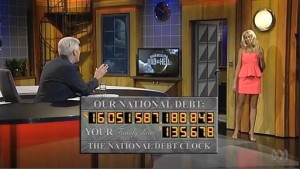 9. Jennifred Stoles – Economics Reporter (Veronica)
Introduced in the second season, Jennifred is a bubbly, young reporter, who is very knowledgeable on economics but curiously hasn't completed her VCE (or as Shaun refers to it, her "matric(ulation)") and still gets lifts home with her mum. The awkward relationship between her and Shaun due to their generation gap always creates some funny moments after she completes her "Mad As Economics" report. Video
8. Casper Jonquil – Talkback Caller (Tosh)
Straight from AM radio, Casper can complain about any topic, and most of the time will. What starts as an answer-come-complain to Shaun's question will easily drift into a mix of real and nonsense issues, in the spirit of the Monty Python Travel Agent sketch. All we know is he's not happy, especially about the lack of privacy his neighbours have while he watches through their window. Video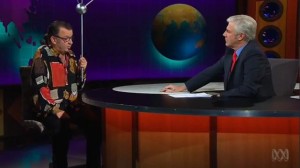 7. Ian Orbspider – Science Person (Francis)
With some obvious inspiration from Dr Karl, Ian is an overly enthusiastic science boffin who is usually responsible for debunking metaphors. He also attracts a lot of bad luck, from falling pianos to lightning strikes, although lately Shaun has been assisting him to tempt fate in the form of a lightning rod.  Video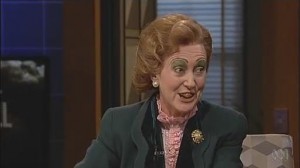 6. Gay March – Royal Watcher (Roz)
It was all things UK during the first and second seasons, as London held the Olympics, the Queen had her jubilee and general British things happened, so Royal Watcher Gay March, a stereotypical devout citizen, kept Shaun up to date in her affected, "endearing" manner.  Video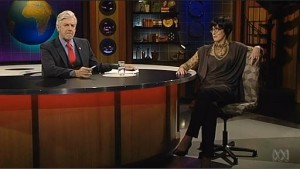 5. Vomitoria Catchment – Blogger (Roz)
A right-wing blogger in the style of Miranda Devine, Vomitoria brought some *balance* to the debate throughout the second season in the lead up to the 2012 Federal Election, along with her snarky wit, for which usually she was the only one laughing (or sniggering) to. She dropped by recently in her new role as Press Secretary to the PM, just to rub it in.  Video
4. Maggie Bathysphere – Sports Reporter (Emily)
Maggie and her revolving ABC sports team colleagues have been consistent on Mad As Hell throughout all three seasons, initially appearing in the commentary box at the London Olympics, before moving to Fisht Stadium Sochi (two years early) and now to Brazil ahead of the FIFA World Cup. Maggie's a true Aussie with her love of sport, particularly the female athletes, and is responsible for explaining the recent wins, losses and draws to sport-agnostic Shaun. Video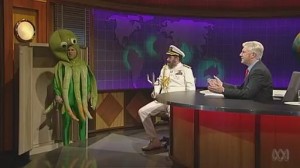 3. Vice Rear Cabin Boy Bobo Gargle (Francis)
Bobo first appeared as a Petty Officer to explain the  feasibility of the "turn back the boats" policy (before it was actual policy) and has since led his *credibility* to every "on-water" matter since, certainly providing answers as ridiculous as the context. Video
and The Kraken – Sea monster (Michael)
Usually called out by Bobo Gargle, The Kraken is usually RELEASED to the tune of Hey Mickey – it's Michael Ward's (one of the writers') time to shine.
2. Steve McCloud – Union Official (Francis)
There's very few who have managed to make Shaun quake in his seat, but Steve's ability to intimidate and impress his will on people without actually saying it directly is undoubted. His thinly veiled threats towards an "over-educated snow-topped TV nancy boy" put Shaun and his questions in their place, quashing any Mad As Hell investigation into union activity. After his initial appearance, Steve returned on the back of the recent union corruption inquiries. Video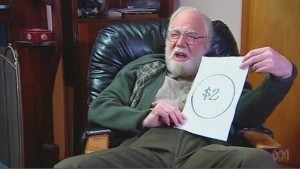 1. William Duthie – Elder with Wisdom (Shaun)
Shaun in character is always a highlight, and Bill is someone who has had plenty of life experiences, but barely remembers any of them correctly. In fact, put all of his experiences together and he's lived a few extra lifetimes: working at the mint, running the parliamentary gift shop, being an engineer on the Parkes Radio Telescope amongst them. He's everything we love about Shaun and his characters. Video
Special mention to Chloris Webbler, Undersecretary of Friends of the ABC, who just missed out, despite her many appearances – including in a Mad As Hypothetical and as a resident of Sponge.
Agree, disagree? Post your comments!
Nobody knows what Shaun and the team will talk about before each Wednesday's show, so the  synopsis for the TV Guide's can't really describe what will happen in any detail. Rather than a generic description, the writers opt for a more creative approach.
This season, the ABC launched a new website for the show, and once each episode has aired, they update the description to actually reflect the content – which makes catching these gems even harder! But we've saved you the effort, and put them all together, including the ongoing story of Stav and Voula:
Episode 1 (Feb 12)
New government, same show. Shaun Micallef returns for a third series and he's still mad as hell.
Episode 2 (Feb 19)
Voula, please help me Babe! I'm trapped inside the TV. I'm like a ghost or something. Can see you see me? Stav.
Episode 3 (Feb 26)
Fill-in host Lee Lin Chin gets laughs with an over-sized torsion wrench. Also stars Emilio Tahoeny, Veruca Millstone and [TROUBLE CODE E01. THE DOOR OF YOUR MACHINE IS OPEN.]
Episode 4 (Mar 5)
Mad as Hell cast travel to Mexico to find out their job as fake bull fighters has been cancelled. Then the Minister for Communication switches the fake bull for a real one! Rated R.
Later changed to:
Shaun Micallef and cast return to lambast the bombast, satirise the lies and shake the fakers and newsmakers.
Episode 5 (Mar 12)
Would Chikita Dimplex or anyone knowing of her whereabouts please contact State Trustees Limited within the next 14 days. Also stars Tossed Greensalad and [ALERT: HEY, MKR'S ON]
Episode 6 (Mar 19)
Oh my God, Voula, there are others here with me in the White Void. I can't see them, I only can hear them. They sound angry. Get me out of here, babe! Is there a button on the remote? Stav.
Episode 7 (Mar 28)
Larry is up to no good having an affair with Moe's wife, and looking to have another one with Joe's fiancee. Moe catches on and plans revenge, except Larry frames Joe for being the new man in Millie's life.
Episode 8 (Apr 2)
Eastbourne Meats Xmas 2013 Promotion Winners: Mrs. L. Clarke, Camberwell VIC. Trumben2(email). D. Ng, Eastbourne QLD.
Episode 9 (Apr 9)
Voula, I reckon I'm dead or something. Do you think it's from that pact we made because our love is too much for this world? Where are you? Shouldn't you be here in the White Void too? Stav.
Episode 10 (Apr 16)
The Stooges try to mine uranium to help their father pay for his surgery. They end up striking oil, but Joe tries to stop it! Also Stephall Hen. Strong Language Warning. IT'S IN ENGLISH!
If you're looking for Shaun news and tidbits in 140 characters or less, remember to check out our Twitter account: twitter.com/SMicallefOnline  There's plenty of Mad As Hell news and quotes, especially on Wednesday nights!
It's time for the Melbourne International Comedy Festival, and three of the clever creative people behind Shaun Micallef's Mad As Hell are starring in their own shows. Check them out, won't you?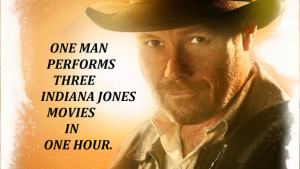 Stephen Hall in Raiders of the Temple of Doom's Last Crusade
Bringing back his one man show, Stephen performs the first three Indiana Jones movies in an hour. Stephen previously tackled the James Bond films in Bond-A-Rama (with Emily Tahini and Michael Ward), which was a thoroughly entertaining show. If you've enjoyed any of the Indiana Jones films – you're going to like this.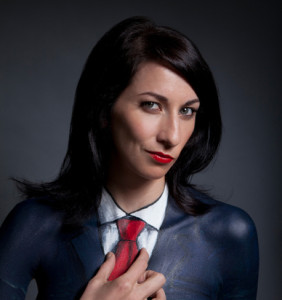 Veronica Milsom in Do Not Irony
Veronica's first solo show involves her bringing the musings of her idle mind from her family lounge room into the real world. A talented writer in her own right, this should be a great opportunity to see some under-the-radar comedy.
Roz Hammond (with Bob Franklin, Steven Gates) in The Writers: The Difficult Second Episode
There's not much information on this show, but with a trio of comedy legends in it, it's sure to be amazing.
Last year, the ABC launched "Fresh Blood" – a call out for new comedy talent to submit their videos and proposals for a chance to receive funding for their video sketch or comedic performance project, so it can be screened on ABC iView and other online channels.
The winners were announced recently, but when the competition was first announced, the ABC used a 'Game of Thrones' parody to promote it – starring the Chaser team and Shaun. If you missed it, here it is: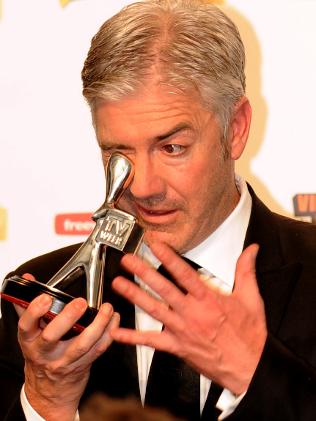 It's nearly Logies time again, the annual Australian TV awards, with this year's ceremony set for Sunday April 27th.
There may have been two shows on our TVs last year with Shaun in them, but neither Channel Ten or the ABC remembered to nominate Shaun for either Most Popular Presenter or Most Popular Male Actor, despite nearly every other personality being on the list. Furthermore, Mr & Mrs Murder was left off the list for Most Popular Drama!
So only Mad As Hell has a chance at a popular award, and only if you vote. Voting closes tomorrow (Sunday).
There's still a chance either Mr & Mrs Murder or Mad As Hell could win a "most outstanding" award, which is industry voted. Last year, Mad As Hell was nominated but lost to… The X Factor?!
Back in 2011, Shaun wrote a piece for Tony Martin's website "The Scriveners' Fancy" (no longer online) called The Resolute President. Move forward to recent times, and Shaun has hinted his next book is about the President's Desk – one of which is called… The Resolute Desk.
Could this except from his original post on Tony's website give us a hint of what's to come….?
The President sat at his desk and ran his hands over the brilliantly polished timber. It had been only a month since he took office – and, in the rare moments he was alone, he still liked to revel in the newness of it all. He had managed to duck his security detail a couple of times to go off exploring, but as he was always on CCTV, they invariably found him after a few minutes. Even when he'd discovered that tunnel that Kennedy had used to smuggle in Marilyn Monroe, the Secret Servicemen had turned up in about forty seconds. The Oval Office was his favourite room, though, because LBJ had ordered all the wiring ripped out after Nixon. There were no cameras, no hidden microphones and, this morning at least, no people. He swivelled around on his chair to face the window and watch the peacocks in the Rose Garden. A gentle dawn filtered through the trees and chased away the last shadow of night, the distant drum of Washington's waking traffic beating through the triple-glazing. A knock at the door broke his reverie and in walked Fellowes with a brisk 'Good morning, Mr President.'…