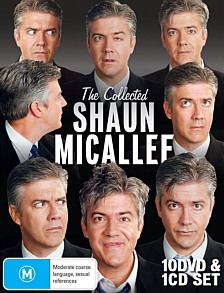 After rumours last year, finally The Collected Shaun Micallef DVD Box Set is now out in stores (also here)!
The box set includes 10 DVDs and 1 CD:
Originally, the box set was to include Shaun Micallef's New Years Rave, shown on Channel Ten at the end of 2009, but that seems to have been omitted. That means all of the DVDs (and CD) in the box have been previously released individually.
Another glaring omission is of course Welcher and Welcher, which was released last year.