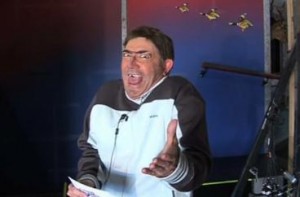 If Shaun is known for one thing from his long canon of work, it is the "brownish bomber", his character Milo Kerrigan.
Milo is of course an ex-boxer with a speech impediment and a clumsy but earnest demeaner – you can see some of his work on YouTube.
Created by Shaun and Gary McCaffrie for Full Frontal in the mid 1990's, Milo was often used as a bit of a "time filler" for a comedy show that had 42 minutes (an hour less ads) of content to fill – by smashing up the set and generally being non-sensical. This mayhem and Shaun's portrayal of the character did endear him to the audience, making him much beloved. He appeared many times over many episodes, in his boxing training room, as a weatherman or teaching viewers how he hosts a dinner party.
Although Shaun has shown mixed feelings to bringing Milo back over the years, Milo has endured and has appeared in most of Shaun's projects. Most recently, after holding out for 11 seasons, Shaun has unleashed Milo twice on Mad As Hell – as a barber and then as a spokesperson for Craig Kelly, surprisingly being interviewed "live" by Shaun.
Other appearances include
Micallef Program: Appeared just one time as a substitute for Chris Corrigan, who was a prominent figure in the news around 1998 due to the wharf dispute
Talkin' 'Bout Your Generation: On the Channel 10 incarnation, doing movie quotes for a round
Shaun Micallef's New Year's Rave: in this 2009 special, there was a special segment covering Milo's boxing roots
(From memory there was no Newstopia appearance….)
Have you enjoyed seeing Milo pop back on the screens?