This week, the guests were Noni Hazlehurst (Baby Boomers), comedian Rebecca DeUnamuno (Gen X) and dancer Matt Lee (Gen Y).
The first game was Panda-Monium. As a red-herring, one of the people replaced by the Panda wasn't famous. A new game, Cinematic Smart Alec, involved guessing the film from a single frame of the title sequence. Charlie was handicapped by being the only one who had to answer in French. It was followed by As Quick As, which involved answering questions before an escapologist ("Cosentino") removed his straight jacket.
The 4 buttons were all movies "promoting Scientology": Wog Boy II, Battlefield Earth, Knowing and of course, Trust Me.
Gen Y picked Wog Boy, playing Lost Luggage where celebrities had to be identified from their luggage.
Battlefield Earth was the choice of Gen X, which was It Could Be Worth. (A game I like)
The BB went for Knowing, where the game was Plagiarism Theatre. Our good friends, Francis and Kat (joined by Michael Ward) were part of the Your Gen players, enacting a scene with 10 quotes from horror films. Afterwards, Kat Stewart got to meet Stuart the Meerkat.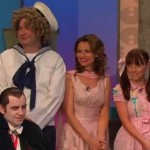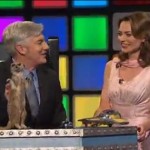 The Your Gen topic was Fish. For end game, the envelope was delivered by the Dalai Lama wrapped in tinfoil. The challenge was "Which Generation is Best at Working at a Fish and Chip shop?" Shaun put his order in and each of the teams had to prepare it. A few of the burgers were still beating, and Shaun managed to drop the contents of Gen Y's burger on the floor, then step on it. It was Gen X who took the 1996 National Capital 80k Endurance Ride, donated by Nikki Ward and Trippy Dippy – and shaped like the back end of a horse!