A cursed Tiki causes havoc for Shaun and his family while on a holiday in Hawaii.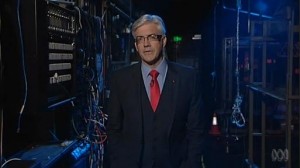 Before looking at pornography, Shaun had a show to do – now with 1/4% less interest.
Shaun's only been a TV journalist for 2 weeks, but he's yet to become a world-weary, unshockable TV veteran like Liz Hayes, so he didn't expect the media to turn on itself or another news man that Shaun loves – Julian Assange.
Julian is on his way to Sweden, where unlike the Eurovision trophy, he's actually wanted. For the last 12 months, he's been living with Geoffry Roberton and Kathy Lett – Verity Ng thinks that's a harsh penalty, with the prospect of too many puns, and he should get time off his sentence. But Thorold Munch from the Dept of Foreign Affair he's getting full consular service – if only he could define what that means.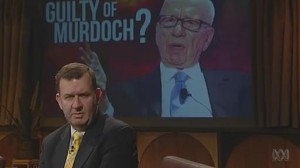 When the media eats one of its own, it's only a matter before it disagrees with itself. Francis reported on the media and politics. Rupert Murdoch says he never asked for any back scratching, but it seems there is plenty of finger pointing at each others fingerprints on Murdoch's back. Francis then interviewed a senior policy advisor (Veronica) for Stephen Conroy, but most of the questions weren't for her (to answer), they were for others, or maybe Francis himself. Piers Morgan refuses to answers anything.
Rebecca Pollador (Roz) interviewed Anders Krill (Tosh) who photographs the politicians for the House of Representatives website. He tries experiemental shots with models and zebras, but in the end they end up as the traditional rectangular sized head and shoulders shots. An exhibition of his work, in alphabetical order, is on til August.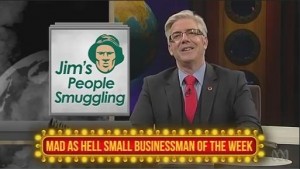 If Four Corners is the home of investigative journalism, Mad is Hell is the beach house. They recently investigated Captain Emad, a people-smuggler who hid as a refugee – you would think his name would give him away? Emad collects Shopping Trolleys, but also runs a people-smuggling operation from inside Australia – making him the Mad As Hell Small Businessman of the Week.
Shaun will gladly acknowledge when others do a great job, and Sky News covered the seizure and destruction of weapons in a raid, and Shaun was pleased with the metaphor of a violent end to violent weapons. But he loved the detail Sky put into the story, actually demonstrating how guns work. But in the reporters' demonstration, Mad As Hell footage shows a cameraman was injured – luckily they showed just how dangerous these weapons are. Shaun's nose smells a Walkley.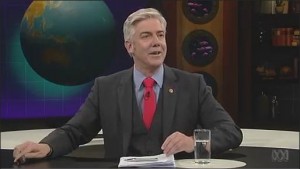 John Howard may have tried to "stop the boats" during the Jubilee celebrations, but Shaun misses him – he was steadfast, and without his glasses he looks good – so Shaun removed his too.
In this week's Back Benched!, Kevin Rudd feels he's got the rough end of the pineapple. The latest WorkSafe ad shows that safety during the shooting of a WorkSafe ad doesn't apply to work experience students.
What do people think about other things? They were asked, and the views were varied, to say the least. ("I don't think the death penalty goes far enough.")
If a poll was held tomorrow, we would all be surprised, as one hasn't been called.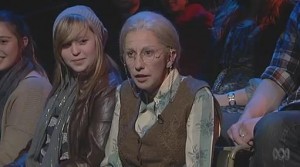 Cloris Webbler has predicted the results of every election since 1955 incorrectly, by voting for the other party. She want's to vote for the worst candidate at the next election, but it's too close to call at the moment.
What if Greece don't pay back the 130 billion euro to Germany? Hans-Peter Gruber tells Shaun they might have to declare bankruptcy, and try to administrate their way out of it. Would that mean Germany would occupy Greece, and eventually loot the country of its treasures?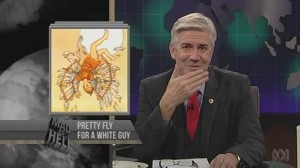 Germany led to Nietzsche, led to the country of supermen, led to Superman, led to Qantas, which led to Pilots. Being a pilot isn't easy, you can easily mistake Venus for a plane. Desiree Fulton (Emily) follows the story about pilot refresher courses, where the different between planet and plane is explained. Capt. Volks kept second-guessing the voice overs, but you can be certain landing on high-tension power lines is to be avoided, no matter how safe it looks.
The Queen has been it for 60 years, and Gay March talked to Shaun about the Jubilee celebrations. The Reign of Her Majesty was celebrated by rain on Her Majesty, but it didn't stop the festivities, which were capped off by terrorists exploding Tower Bridge.
The Royal family has released some old home movies, but most of them are Charles being tormented by his mother, who to this day still refuses to abdicate.
As a final point, Shaun noted that the share market has lost so much that if it had been Gina Rhinehart's personal wealth, she'd be down to her last 6 million. Peter Slipper would write it off with cabcharges.