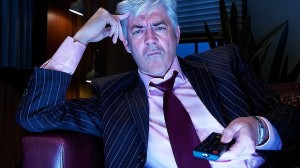 It's been a publicly quiet few months for Shaun, but as we head towards the end of the year, be prepared for an explosion of Micallef appearances:
Most Importantly: Mad As Hell is back from Wednesday at 8pm on ABC (or replayed on ABC2 or on iView) for 10 weeks
To 'promote it' (or not) Shaun will join

Matt and Alex on Triple J Tuesday mornings, probably sometime after 8am
Red Symonds on ABC 774 Melbourne breakfast, about 7:20am.
Both can be heard using the ABC Radio app for your Android/iPhone

It's a Date starts on ABC on October 16th, with Shaun appearing in one of the episodes.
The President's Desk, his book about the alt-history of the most powerful piece of furniture in the world, is available in the first week of October. To publicise it, he will be appearing at:

possibly more dates to be confirmed
So now you know!
And Francis's knee will be doing a regional tour of RSL clubs on the 31st of November.