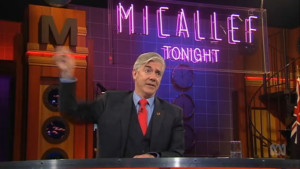 We're off and running into the fifth season of Mad as Hell, and already a few nods to the Micallef fans, with a "High Horse" routine sneaking itself into the News from Countries Other Than Australia, with Freedom bars and Coco Pops both going "Into the Bin!"
You may have also spotted his Tyrell Corp Blade Runner chair at the back of the set, which originally appeared in Talkin' 'Bout Your Generation.
We've got another nine episodes for this year, 8:30pm Wednesdays on ABC. Catch up on iView or it's repeated Sunday nights.
Edit: It also made the Top 10 ratings for the night, albeit with similar figures as last year. Also, the Herald Sun had a write up of how the first episode came together, including sketches that were cut (and why).