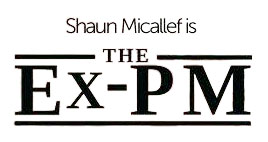 After over a year of anticipation, finally Shaun's first sitcom in 12 years is here – The Ex-PM! And at the special time of 9:05pm too. This Wednesday, ABC. (Or on iView afterwards)
Each of the six episodes will be a different aspect/chapter to Dugdale's life as a former Prime Minister, all wrapped around the need for him to finish his autobiography, or at least have it written for him.
Expect a lot of quick-paced-wit and an great supporting cast.