Let's see how we go with bringing back the recaps….
To raise money for charity the San Antonio Spurs basketball team is miniaturised, injected into Iggy Pop's head & given just 60 minutes to find five living brain cells which it can challenge to a game of 'hoops'.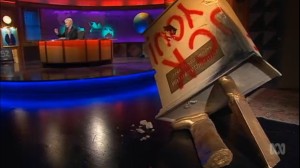 The Abbott statue has been overturned, and there's 52 sleeps (or 54 if they do a couple of debates) until the election. Shaun wasn't sure that he was Mad As Hell, not Glad As Hell, but perhaps Sad As Hell, especially about those whinging about the election. Moof Pupper, lecturer at Box Hill Tafe, disagreed with the Stephen Conroy's assertion that Sir John Kerr's ghost would be turning at his grave over the double-dissolution – crawling perhaps.
Shaun is going to miss some casualties of this election, like Clive Palmer, who's easy to call an idiot (just add the caption "Idiot" to any photo of him) and Ricky Muir, who is great at describing when a gun doesn't go off. Sophie Mirabella is likely to lose her seat even more, with her bold strategy of encouraging people to vote for you by not telling them what you're going to do for them until after they haven't voted for you. Gorg Van Der McKenzie from The Institute of Whoever is Providing the Funding thinks that the strain on Wangaratta Hospital was eased when people felt less sick when Ms Mirabella didn't win, so there was no need to fund it.
Shaun's really going to miss the old Bill, who is doing "no more zingers" – imagine how that makes Shaun feel! As Shaun is an expert on comic timing (he was Fabio), he felt he could judge Jason Clare's zinger attempts, but they're shithouse compared to Bill. Bill has however been employing a vocal coach, even though it may mean he turns up sound like a Nepalese musician, or Ian Macfarlane.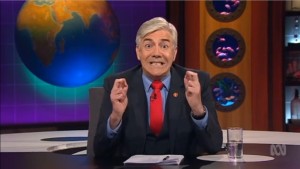 On the topic of Malcolm Turnbull, Shaun likes him, and hopes he wins the next election, and will do everything he can to make him look good. ABC viewers are a whiney lot, complaining about the poor use of their 8c a day, and Shaun is unapologetic about his biased respect for Malcolm. (His Malcolm rant should be shared on Facebook, as the ABC loves that shit.)
On Father Brown this week, another priest is going around shooting people, and despite all the evidence, Father Brown recalls nothing of the incident and promptly moves the priest to another parish – mystery solved.
The federal budget has been digested, but Financy Boy can't be the one to present it due to editorial policy, so Wilhemena Diiferent did – looking at Febu / Fudget / Debudget, and its benefits for CEO's and Bankers.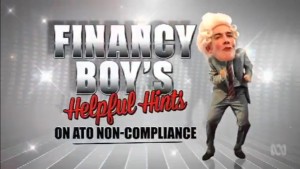 The budget has brought Malcolm and Scott Morrison together, and they are using tax to discourage people from doing certain activities – according to Draymella Burt, this includes smoking, eating (consumption tax), earning income (income tax) and leaving (departure tax).
War is still Hell, and the government is spending a lot of budget money on submarines. Rear Admiral Bob Gargle thinks it is money well spent, and that it's not politically motivated – "There's no reason to stuff more pork in the barrel than you need… if you catch my drift." Dr Eldon Tyrell thinks you can't make the existing Collins class last longer – "it's a little out of my jurisdiction". Bobo says the Collins class has a good range – 3 octaves to be precise. You can hear them from quite a distance – and they go all the way to high C (high sea – geddit?) And despite Bobo wanting a limited release of the Kraken, the ABC had left the poor Kraken in his cupboard for a year, and he'd wasted away to his skeleton (impossible for a cephalopod).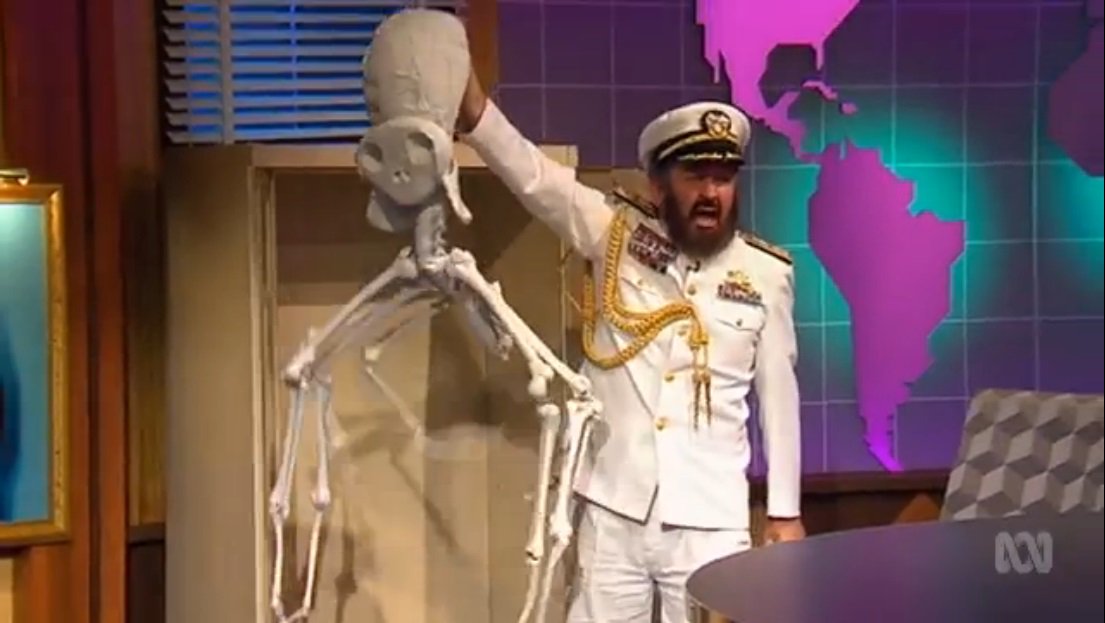 Next on ABC: Farmer wants a Chinese Investor, Bob's Deeply Personal Journey, and Over-Correcting the Perception of Bias – a full night's viewing!
There's plans for a nuclear waste dump on the property of an ex-Liberal MP, which is one hell of a parting gift. But speaking of sport, its sport, and the sport of banking is one Australia would win. Zenzy (Hawke Screech) reported on how stupidly bankers allowed people like the Macallisters to over extend themselves to audacious levels, and how unscrupulous brokers like Davey Plumb rorted them all, easily and proudly. And the Australian government is only repeating them same mistakes.
To wrap up, Shaun feels that Lee Lin Chin was robbed of the Gold Logie – she's the only one gutsy enough to say penises on TV.