Along with Shaun, both Stephen Hall and Michael Ward have formed the core writing team for every episode so far of Talkin' Bout Your Generation.
Stephen might well be remembered for his portrayal of Burt Newton in The King telemovie and Warren in The Hollomen. Both have appeared in roles in Shaun's other shows.
Both Stephen and Michael are appearing in "Bond-A-Rama" – a re-enactment and celebration of every James Bond movie on stage. It's on at Chapel off Chapel in Melbourne for a limited time during August.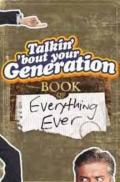 Also, Michael has compiled the "Talkin' 'Bout Your Generation: Book of Everything Ever". It contains over 1500 quiz questions, along with a number of dubious 'facts' and some re-creations of our favourite games from the show. It's available from August.
You can read excerpts from the book on Tony Martin's "Scriveners Fancy" website.