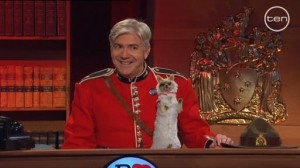 It was the Law & Order special, with Shaun dressed up as Benton Fraser from Due South, a Canadian Mountie. Stuart the Meerkat was dressed as his sidekick, a deaf half-wolf named Diefenbaker. Amanda was dressed as the Freak from Prisoner, Charlie as Ponch from Chips, and Josh as Mr Plod from Noddy.
The guests were Jay Laga'aia (BB), dressed as Shaft, Jane Allsop (Gen X), dressed as Farah Fawcett's character from Charlie's Angels, and Gyton Grantley as Mahoney from Police Academy. The set was transformed into a court room.
First game played was Missing Persons, followed by Frankenface. The teams were to play As Quick As, but Hello Kitty interrupted to describe the rules, before segueing into talk of power turtles and the riding a push-bike song, thereby running out of time for the actual game.
The four buttons were all scientists who have contributed to advancement of mankind: Dr Albert Schweitzer, Dr Jonas Salk, Dr Christiaan Barnard and … Dr Geoffrey Edelsten.
Gen Y chose Schweitzer, playing 'Who am I doing?' – Shaun 'assisted' as Josh, then Gyton, as they acted lines from a number of movie scenes. Josh then stripped off his jacket.
Gen X picked Barnard, which was 'Name That Tune'. Shaun played one of the songs, and Stuart sung another.
BB decided on Salk, where the game was Lost Luggage.
Matching the theme, the Your Gen topic was 'Crime 'n Punishment'. The super flying turtle referred to by Kitty came to deliver the end game envelope: 'Which Generation is Best at .. Cleaning an Aquarium.' Gen X won, after Gen Y was clearly ignored. The trophy was the 1978 (Coke-Cola) YoYo Champion Award, donated by Don Lee of Jeeralang Junction Vic.