Shaun was a bit confused this week, thinking it was Tom Cruise movie theme week. He'd even dressed up in the Marine uniform from A Few Good Men.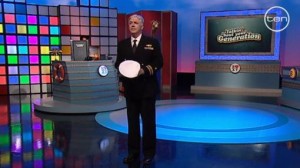 All of the guests were from the Young Talent Time reboot (how well cross-promoted): Johnny Young, Tina Arena, Rob Mills.
First up was Panda-Monium, with famous people replaced by a panda. Next, was Spoilers Ahoy, with a card of Harpo being used to indicate when the viewer should mute (to avoid the spoiler), and Kyle and Jackie-O when they should look away.
A new network policy prevents Shaun from singing, so they played Charlie was Wrong. A (doctored) clip of Charlie getting a question wrong was played, and a team had to get the right answer for 15 bonus points.
The four buttons were all Channel Ten "stars": Jordy Lucas, Michelle Bridges, Yumi Stynes and Andrew Bolt.
Gen Y picked Michelle, playing Draw that Book
Gen X chose Jordy, which was What Just Happened? A clip from Harry Potter, with Shaun as Snape and Francis Greenslade as Harry, both searching for the missing invisibility cloak.
BB decided on Yumi, and hopped in HG Well's Time Machine to identify audio clips from throughout history.
The Your Gen topic was Cats and Dogs! The end-game challenge was making High Tea for Shaun and his grandmother, or at least an actress pretending to be.
Gen Y were the unanimous winners with their well cut sandwiches and pikelets, getting the 1st Place Clarinet Award donated by Bethany Wright, Brisbane.