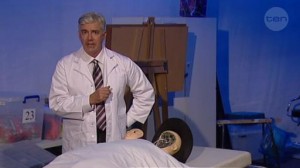 This week the pre-intro scene made a comeback, with Shaun asking who had the quickest draw in Hollywood while dressed as a doctor – obviously!
It was all about the wild west this week, with the teams, set and Shaun all dressed the part. Shaun was not sure who he was, but Yul Brynner from The Magnificent Seven was the best guess. At least we now know how Shaun looks bald!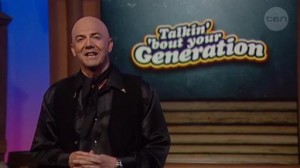 The teams were Calamity Jane and John Wayne for the BB (Amanda and Matt Preston), The Man with No Name and Lili von Shtupp/Madeline Kahn for Gen X (Charlie and Kate Langebrook) and the Milky Bar Kid and Seth Bullock as Gen Y (Josh and Josh Earl)
First up was Howdy Partner! Every successful person had a loyal partner which the teams had to guess, but in Shaun's case, Stuart the Meercat had quit. In Nobody's Business, the aim was to determine the TV show from the fictional business. Toasting bread was too modern, so toasting flapjacks was used instead as a timer in 'As Quick As'.
In the magic window, the choices were all horses from the wild west:
BB chose Silver, which was Quick, Draw. As the wild west didn't have modern things like movies and books (?!), Matt drew musical artists.
Gen X chose Lionel, playing Liquidentify – which was a disgusting as it sounds.
Gen Y picked Tornado – and it was Trust Me! The 'torture' was Chuckwagon Pillory, and Josh Thomas was 'lashed' to the wheel. Every question was answered wrong, so Josh got baked-beaned, chillied and coffeed. But there was no 'Super Flying Power Turtle'.
The Your Gen topic was Hats! Finally, the end game was 'Which Generation Is Best At… Finding a Needle in a Haystack'. It almost looked hopeless, but Josh Thomas found one eventually, winning the 1987 Worst Score Par 3 Licolla Classic, donated by Robert Tobias.