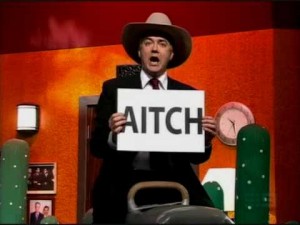 The day after the 13th episode of Micallef Tonight, 10 years ago today, Shaun's Channel 9 variety show was axed. The show itself had started to gather some momentum with its irreverent humor, and had been extended from the original 12 week run by 20 weeks. So it came as a complete shock to the whole production team, especially Shaun, when it was cancelled – never to return to our screens.
At the time, it probably created a low point in Shaun's career, and it wasn't until Thank God You're Here, three years later, that Shaun was again making regular TV appearances, leading of course to Newstopia in 2007.
Shaun himself had a little nod to the show in the fifth episode of Mr and Mrs Murder, "Lost Soul", with Charlie whistling the theme tune while he worked.
The Expurgated Micallef Tonight DVD was released a few years later, with the 13 episodes condensed down into eight.