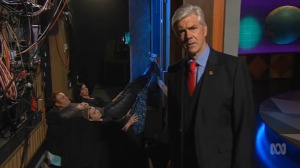 Over the course of a few discussions with members of the cast and crew of Shaun Micallef's Mad as Hell, I've had some insight into how an episode comes together each week. So if you've ever wondered how a weekly TV satirical news show comes together – here goes!
All of the writers work mostly individually on their scripts and jokes, submitting them to Shaun, who works them all together to make a common "voice". The cast get their scripts on Friday and sometimes Monday, with Shaun still editing scripts over the weekend. Monday is often used to shoot the pre-recorded/outdoor sketches.
Tuesday is a big day, with the rehearsals, then the live taping, with the audience arriving at 5:30pm, and filming soon after 6pm. It's shot in Studio 31 at the ABC Studios in Elsternwick. The show is filmed roughly in the correct order as it would air on the TV, with taped pieces from the previous day (or week) being shown to the audience during cast or set changes. Usually more content is taped than required for the 28 minutes, to allow for flexibility with the pace of the show and adjustment to content, should news events of the following day dictate a change. So there is some content which never makes it to air.
After the taping, Shaun and Gary (McCaffrie, his writing partner) sit and compare notes on the show, and Shaun heads off to get the editing process started. This continues through on the Wednesday, with the finish touches put on before it airs at 8pm. All in the meantime, the writers have already begun on the content for next week.
There are many talented people who bring the show together each week, but it's truly Shaun who acts as a linchpin to the whole process. Why wouldn't he – it's got his name on it!
Thanks to Anthony Morabito, David M. Green, Stephen Hall, Gary McCaffrie and of course Shaun – plus all the very friendly people who've shared their time with me.