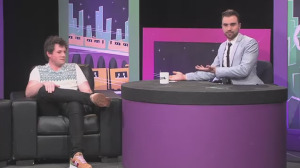 Live on Bowen is a comedy and variety show produced by RMITV which airs on community TV station C31 in Melbourne and throughout Australia and NZ. The show has always featured up and coming comedians and performers, and the current host is Simon Taylor, who is also a writer on Mad As Hell!
For the fifth season finale, Simon's guests will be Shaun himself and Stephen Hall (Darius and various other characters).
The episode airs on Friday 7th November on C31 Melbourne at 8:30pm, on 31 Digital (Queensland) Wednesday 12th 9pm, WTV (Perth) on Wednesday 12th 9.30pm and Face Television – Sky Channel 083 (New Zealand) Sunday, 10pm. It will appear on 44 Adelaide later in the year, but Sydney you're going to have to wait till it appears on YouTube.