During a sudden moon storm, a space baker is abandoned by his fellow astronauts. Talking to himself so we understand what he's thinking, the space baker must ration a single sachet of yeast to survive.
Malcolm Turnbull's popularity is slipping, and he could face a leadership challenge from someone more popular, like Julia Gillard (if only she was running). Bill Shorten is at minus 6 in his popularity, but if he builds on it, he could get to zero. Maybe he could bring back his zingers?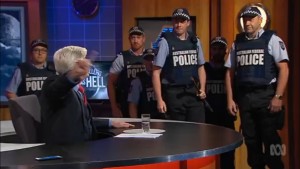 Turnbull has a strong logo to promote his coalition team, with a strong border, which suggests a lot about their attitude to people smugglers. If his team was stronger, they may have stopped the leaking of the NBN documents – certainly the AFP are still looking for the source, and they stopped by to see Tony Jones about it. Labor is very cross over their offices being raided, and have used parliamentary privilege to silence an un-named NBN employee who took photos during the raid, who Mad As Hell has called "Tangello Zapata" (Stephen). He did delete the photos as requested, but not before emailing them to his colleagues, friends and family.
Next on ABC: Joe Hockey's Washington, Embarrassing Bodies (like the ACCC, the Australian Press Council, Climate Change Authority) and Kitchen Cabinet Extension focuses on international psychopaths.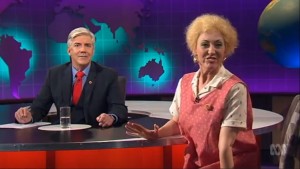 Clive Palmer isn't going to run for the senate, but is confident his party will still keep the bastards honest, although Jacqui Lambie is aiming to make the bastards honest. Jacqui is focusing on security, and thinks that terror suspects need to be arrested before they even commit a crime. Dolly Norman (Roz) thinks if they can do it in Minority Report, why not here?
Later in the week: a teetotaler, an intellectual, asexual academic who isn't interested in sport and hasn't sung to Khe Sanh – UnAustralian Story, Tuesday 8pm.
Milk. Coles are introducing a milk which will give consumers the choice to pay more to support the farmers, even though they are the ones driving down gate prices. Gamma Peedi (Emily) thinks having a brand supporting farmers is about choice, and the use of emotions such as guilt, pity, remorse and shame, even hate, to drive consumers is an avenue Coles is keen on. Their new brand, Fuck You Farmers, will be in stores soon.
The ballet paper for this election is going to look different to the last time you drew a penis and testicles on it. To help with the change, the AEC have an example paper, but the Cloud Party and Humid Party have strong opposition to the Fog/Sun Coalition, which Clancy Lanyard (Roz) thinks has a strong chance in the polls. However she couldn't get her graphics to work, so couldn't prove it – Kerry O'Brian would be annoyed.
Scott Morrison thinks that every time Bill Shorten's lips move, he's spending money, but does that count when voters lock lips with him? Michaelia Cash still holds the lip moving record.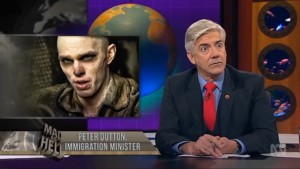 Which party are the biggest arsehole to immigrants? The Not-That-Keen-On-Immigration Minister, Peter Dutton, doesn't think much of the Greens policy, believing immigrants are illiterate and innumerate and will take our jobs. It doesn't say much for those they take the jobs of, not to mention that our politicians seem to be innumerate – David Feeney can't even count the number of investment properties he has.
The campaign trail is relentless, with photo opportunity after photo opportunity and drink at a bar after drink. Did Sir Peter Cosgrove call an election or last drinks? Send your entries to this rhetorical question c/o the ABC.
The NSW electoral commission won't give the Liberals money due to non-disclosure of election funds, so they are down by $4.4million in funds. To help out, Mad As Hell have created an ad for Ian Goodenough, member for Moore, who really is only just good enough.
Coming Soon to ABC: beauty only gets you so far in a boys club, because cleaning up a world that just got a whole lot dirtier is hard, but who ever said union smashing was ever meant to be soft? Or that a scum was ever easy to remove… Enid Swink. (not to be confused with Janet King)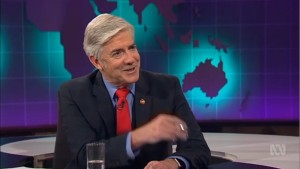 News from Countries Other Than Australia: the University of East Anglia has banned the throwing of mortar boards, suggesting they should be mimed and photoshopped in – why not just mock up the entire degree and save the HECS debt! (NAILED IT!) A Boston Hospital has performed a penis transplant, but Dr Brian Appointment (Francis) insists the donor is always from a stiff, touch wood. And the mayor of a local town in New York State has been arrested for stealing 111 road signs – apparently the limit is 110.
Coming Soon to the ABC: a new take on Kitchen Cabinet, with ABC journalists visiting the homes of politicians to help out with domestic chores. It's followed by a sense of emptiness.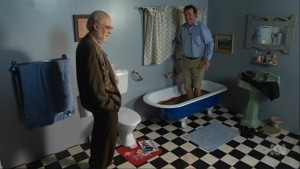 Bill Duthie has the wisdom of the elders, and irrespective of the $16 million which had been promised to Cadbury last election has been diverted elsewhere, he is going to act as ambassador at the Rio Paralympics for them, throwing them to the crowd or at the athletes if he's facing the wrong way. He has a long history in the chocolate industry, originally suggesting plastic should be put in Mars bars. He also invited Francis to stand in a bath of …. chocolate.
Turnbull is taking a leaf out of Howard's book by saying that his government will decides who comes here, but perhaps he should have taken a leaf out of a leaf blowers mouth before he did a full rendition of We Are Australian.