A dying man decides to embark on a 2000km road trip with his son to visit something or other one last time. But as a surprise, the son buys a pair of plane tickets, so they end up flying instead.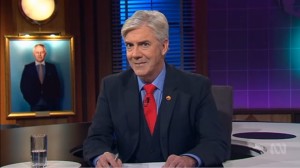 The back has been broken of this election, but it's not paralysed. In fact Labor and Bill have increased in popularity, and Shaun think it's due to the support of Mad As Hell and his promotion of Bill's zingers. But what about the Libs and Turnbull? Shaun thinks he's a smooth operator, but has identified Malcolm's tell: his propensity to raise up on his toes, and has helpfully highlighted it in order to help Malcolm overcome it. Malcolm is relatable though, because he was once a child, like most of us, but also is willing to talk about sport. Bill tried that, but didn't know his Maroons from his Storm.
Can Malcolm learn anything from Donald Trump? Only if it's how to wrestle in the WWE. If he's looking for bozo's to inspire him, there's plenty of local ones – ie. high-ranking MPs – who don't know their own parties policies. Not to mention all the minor party candidates, who Turnbull likens to throwing your vote away. Like James Mathisen, former Australian Idol presenter and Wake Up host, who is up against Tony Abbott in Warringah – you can vote for James by sending an SMS to 1888 99 66.
Shaun thinks we should look out for NSW MP Robert Borsak, a member of the Shooters, Fishers and Farmers party, who claims to have shot, killed and eaten an Elephant – a meal that both the meal and the diner never forgets.
The Australian Christian Lobby is linking gay marriage to the rise of Nazi Germany, and the recent parades of gay people marching through the streets of Sydney on their way to Poland would certainly suggest this to be true.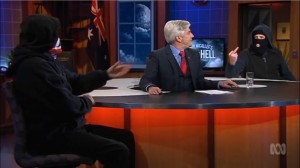 Sticking to the far-right, the Australian Liberty Alliance is unaware of their dwindling relevance because the leader doesn't pay attention to the media, or much else. Their call for bans on face coverings puts them as strange bed fellows to the Victorian Police Minister, who voiced his support for the ban after recent clashes between anti-Halal supporters, proving disagreements about how food is prepared can turn ugly (as a photo of Gordon Ramsay shows). Jasper Zelwegger from the Party for Freedom defends his right to his own freedom to deny other people their freedoms. Joachim Spinefex is strongly against Jasper's group, and will use violence to defend his position. Freedom of Speech is about who is able to call the other unAustralian the loudest, but Shaun wonders why can't we just live together? (Nailed it!)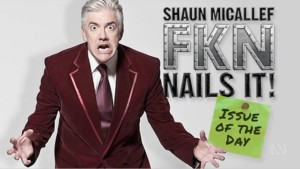 Pauline Hansen is on tour, launching her campaign with the slogan: "You don't have to be white to be Australian" (but it still matters who and where you worship and where you come from.)
Soon on ABC: Once in a while, ruled by hate, in a world that hates rules, anonymity has a name. A show where real social issues are combined with science fiction and questionable acting – Too Cleverman By Half, Thursday 9:32pm.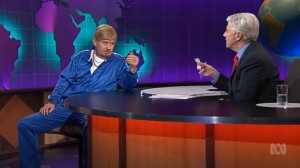 The ACCC has fined Woolworths for selling laundry detergent in ultra-concentrate form but not passing the savings on. It seems the former buyers at Woolworths are to blame, but Dragon O'Hennessy (Francis) is just as happy with being labelled dealer or juggler. He has the good stuff, and as it's easier to transport in concentrate, and they've made more from the scheme than the fine from the ACCC, which is a like a "drop of powerball detergent tablet in the ocean." He also gave Shaun a sample, but using it might cause you to find yourself in hot water.
There's a Twitter war between the Libs and Nick Xenophon's team over stolen electoral posters, but Jelly Cannister (Emily) has found the culprit – herself. She's such as fan of Christopher Pyne that stealing 500 posters seems fairly rational, although the nurse says she can't fit them all on the wall.
In News from Countries Other Than Australia (brought to you by the Mad As Hell Voting Gyroscope), anti-slavery documents have been sold at auction, presumably with some rich white people bidding over them. The Pope has praised some actors for their work on a Vatican education initiative, but was less positive about some of their box office flops. Afterwards, George Clooney and Amal Alamuddin met the Pope, both looking fetching in their suit and knee-length dress respectively, as was Cardinal George Pell when he was recently spotted in his tweed sports jacket downing a pot of Peroni over lunch.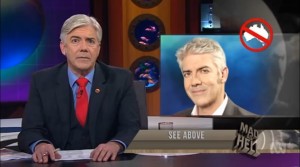 A recent Unesco report on climate changes influence on world heritage sites and tourism has had a section on the Great Barrier Reef removed from it, which is like leaving Shaun out of a Facebook page of Australian TV hotties. Government advisor Bison Jugular (Roz) says that if the government hadn't asked for it to be removed from the report, tourists may have stopped visiting the reef because it was dying, which it is, but they shouldn't know that.
Derica Boing investigated the seat of Fairfax, the soon-to-be-former seat of Clive Palmer, and after that experience, found that the locals have a strong, strong distrust of politicians.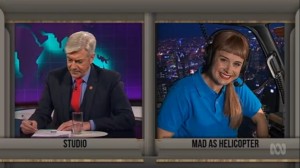 The woman famous for having a mattress named after her, the Queen, is celebrating her 90th birthday. Lois Price (Emily) was high in the sky, talking Shaun through the photo shoot in Vanity Fair: one with her and her pure and cross bred dogs and another with her in-bred grandchildren. Don't forget to mention this program when visiting Li's Popup Massage Tent for a look of confusion.
You won't see that kind of satire on The Chaser.