In the midst of writing, editing and starring in two TV shows, Shaun has whipped up a new book for our grubby little hands.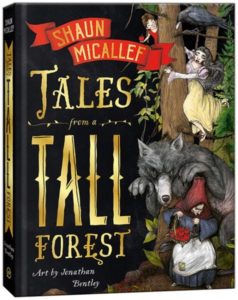 Once upon a time being, forever and ever ago, there lived a forest tall of tales … ? When an innocent princess wanders into the forest, she finds herself trapped between a wolf with a ravenous appetite and a sweet little house with a secret. Meanwhile, a desperate fisherman enters into a very bad bargain with a power-hungry monkey. And meanerwhile still, a tiny tricksy tailor promises a promise that not even the most magic of beanstalks can help him escape.
In the same style as those he used to invent for his kids, Shaun has written woven traditional fairy stories into new and surprising adventures. It's aimed at "tweens", but there's something to enjoy for any fan of Shaun's style or work. I'm a good part through it, and it's fun and meandering; and not as much of a mind-bend as his previous novels.
The stunning illustrations are throughout by award-winning artist Jonathan Bentley.
More grim than Grimms', less soppy than Aesop.
Shaun will be doing a reading at The Sun Theatre in Yarraville, Melbourne in October.