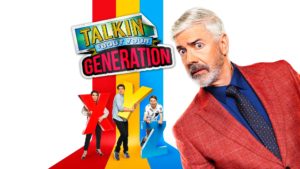 It's been six years, but next Monday, Shaun returns as host to one of the most popular TV shows he's ever been a part of: Talkin' 'Bout Your Generation. But this time, it's on a new television station with three new team captains. Watch the promo.
Shaun spoke to us about the return (Monday 21st 7:30pm, Channel Nine)
TAYG coming back is a bit of a surprise. Were you surprised that you got back involved?
It's always been asked after, for us to come back. But as the years passed, we thought "oh, it's gone now."
The original idea was to just to do a reunion show. But for some reason, there was no opportunity to do that. Nine asked "would you be interested in doing [a new version] over here."
I wasn't really interested in doing it without the original cast; that was the point, that the reunion would be fun. Then I helped out with the casting, because they were going to do it anyway, and they did the captains and were looking for a host, so I said I'd come in, and it was quite fun, in a different way.
It's quite different, as you'd expect. When it was Amanda, Charlie and Josh, they were new, and I was new, and we were getting to know each other, and getting used to it, and that created a really interesting dynamic. This new incarnation, I know the people a bit more, and in a different way. It's kind of the same ingredients, but it's being used to make a pudding instead of a risotto – it's quite strange.
Do you think it's something you might continue to revisit?
We'll see how it goes, it's not really my decision – it was fun to do though, it was great.
But if it works out well, and is continued in some form, would you be interested?
I wouldn't say no, I don't say no to anything.