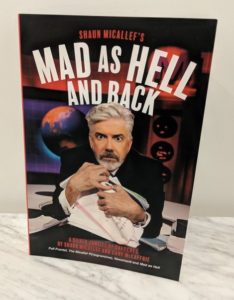 Shaun's latest book has hit the shelves: Mad As Hell And Back, an anthology of sketches from Full Frontal, The Micallef P(r)ogram(me), Newstopia and, of course, Mad As Hell.
It's co-written with Shaun's writing partner Gary McCaffrie, and the two introduce each section of the book (grouped by program) with a story about how they got to that point, sparing back and forth.
I was very happy to get my hands on my copy, it's a celebration of some of Shaun and Gary's best sketches in 370 pages. Sure it's really for die-hard fans, but why would you want to be anything else?