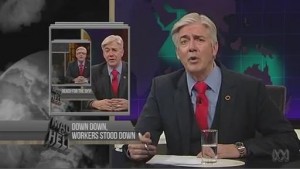 It's been ten years since this very website first appeared on the Internet, and wow hasn't time flown!
At the time, Shaun was between seasons on Talkin' 'Bout Your Generation (the Channel 10 years) … Mad As Hell was still a few years away. I'm so grateful to Shaun and all the fellow fans for making this website what it is over the last 10 years; Shaun's someone who's always got something new on the boil, and it's been enjoyable to help share them. (He's also a really nice person.)
But I must apologise, as I feel like I've dropped the ball on this website, having been so long since the last update. With Mad As Hell continuing it's path of excellence (renewed for another season later this year), using Twitter to share breaking information and Shaun himself being on Twitter, there's not much extra news to share. It's mostly been sit back and enjoy the Micallef time. Also, I'm excellent at procrastination, so there's that too. I'll try to post some new things over the next few weeks 🙂
Here's to another ten years of Shaun brilliance, and this website sticking around to discuss it.