TAYG is back! This week's guests were Todd McKenney (BB), Dave Hughes (Gen X), Kate Miller-Heidke (Gen Y).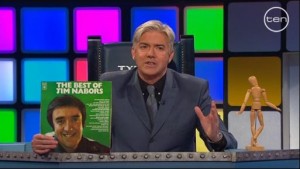 First up was Chicken or Egg, guessing which of two similar things came first. Stuart the Meerkat rudely interrupted before a new game "Establishing Shot", where the teams had to determine the TV show from the opening shot. The timer for "As Quick As" was a sheep being shorn.
The four buttons were all those who lost the 2011 Gold Logie to Karl Stefanovic: Chrissie (Swan), Adam (Hills), Hamish (Blake) and Sean himself – purposely mispelt.
Gen X chose Adam, a new game called Media Barren. Headlines had to be created based on historic photos using magnetic words, as well as identifying the year.
Gen Y picked Hamish – "Guess the Guest". Patti Newton inhaled the voice-lowering balloon gases, but Kate was still able to identify her.
BB decided on Chrissie, which was "It Could Be Worth" – deciding on what goods would have been worth at the time of their release, and keeping the purchases under-budget.
Stuart burst through the desk to announce the Your Gen topic: "Kings 'n' Queens". The End Game asked the question Which Generation Is Best At… Raising a Barn. The teams were all dressed as Amish people and had to assemble a barn outside. Gen X just beat Gen Y, winning the Maribyrnong High School Quantity Surveying Award from 1974, donated by Cathryn Van Tatenhove.