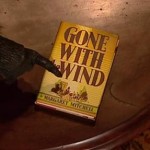 Tonight, Talkin' 'Bout Your Generation was Gone With The Wind! It was the unofficial last episode, and the guests, set and Shaun were all dressed for the American Civil War era.
The teams were all dressed as characters from the book, mostly Scarlett O'Hara and George Wilkes; Shaun himself was Rhett Butler.  Deborah Hutton joined Amanda on the Baby Boomer team, Matt Lucas and Charlie on Gen X and Christie Whelan with Josh on team Gen Y.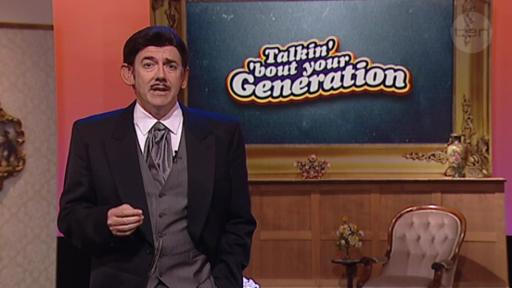 When Shaun found out Christie had been nominated, but never won a Helpmann, Shaun proclaimed he never wanted a [Gold] Logie; Carl Stefanovic could have it.
Shaun and Matt shared some mutual admiration – Matt had come to be on the show solely based on his love of The Micallef Program.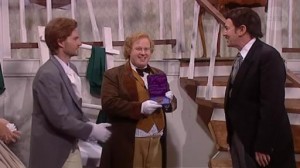 First up was Cinematic Smart Alec, where a single frame from the opening credits of  movie was show. Despite Matt's limited movie knowledge, he picked most of them. When it came to What Ya Talkin' 'Bout Willis?, Josh and Shaun entered an argument on if some of the sayings were actual sayings, or just rubbish taken from Urban Dictionary.
For the magic window, all the buttons were roles Michael Ward has played through the last four seasons: Dracula, Santa, Mr. Spock being attached by a woodpecker and General Mccarthur.
Gen Y chose Mr Spock, which was Draw That Book.
Gen X decided on Santa, playing Who Am I Doing? Matt did the impersonations, with Shaun "helping" and encouraging.
BB picked Dracula, playing Crate Expectations – a crate version of Whose Baggage Is This?
The Your Gen topic was Wind!
In the end game, Tara (the set/house from Gone with the Wind) had been destroyed, so the challenge was to find out Which Generation Is Best at… Building a Grand Staircase. The teams used parts of the set to mostly build ladders.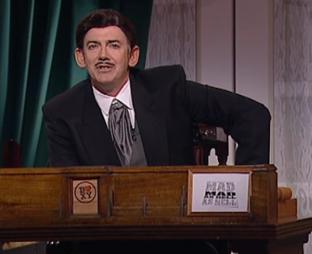 Matt Lucas (and therefore Gen X) won the Forbidden Medallion of Kandor, Modelled by Jacinta (Stephen Hall) sent in by Nobby Doldrums of Hove SA
The mood throughout the episode was certainly of a show which ending. Did anyone else spot the Mad As Hell sign on Shaun's desk? 🙂