Shaun, not usually known for being one who's internet-focussed, has released some new writing in the form of an eBook.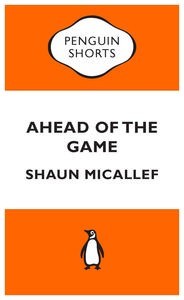 Ahead of the Game is a new short story from Shaun, just released through Penguin Shorts. Caspar Jolley is a thrillseeker with a gift for always staying one step ahead. Doctor Evelyn Flowers is a woman of science – and sensuality. Brought together by an off-street speedboat-racing catastrophe, will they be able to overcome a bizarre and confounding injury?
Also, Smithereens has been made available in a shortened eBook form, appropriately titled A Selection of Smithereens.
All of these (plus some of Shaun's older titles) can be bought through Amazon's Kindle service (or any other eBook service). The Kindle app runs on PC, Mac, Android or iOS – so there's no excuse not to get some Shaun to read!