A time-travelling scientist accidentally steps on a butterfly in the distant past. When he returns to 2016, he discovers to his horror that his tiny action has altered the future – he's married to a butterfly!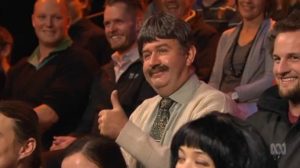 Shaun was mad as hell for the first time this series, because pre-polling has begun and it's like opening your Christmas presents on Christmas Eve. What kind of person wouldn't want to wait as long as possible to delay their political gratification? What kind of world are we living in where a 92 year old person could use the excuse that "they wouldn't be able to walk up the hill to the school on election day" as a reason to prepoll? One unnamed audience member (Francis) says he used that exact reason, but admitted it was because he was sick of the whole campaign, the lies, the spin and the hi-vis vests.
Forty percent of people disapprove of Turnbull, and forty percent disapprove of Shorten – so what of the other 20%? Turnbull is confident the undecided will re-elect his government, but admits it's their decision – regretfully, the government can't re-elect itself. Shorten wouldn't be so arrogant to say they would win, although is that more delusion than arrogance?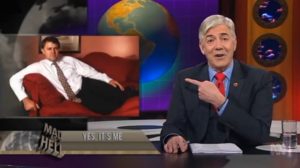 Shaun thinks highly of Mr Turnbull, equally doesn't mind Mr Shorten either, and has a soft spot for the lovable eccentrics, like John Maddigan. It's us, the voter, who are the issue, because we've given up listening and most of us don't know enough about everything there is – omnignorance. If the voters could tell the politicians what they want to hear them say, it would certainly help the situation, and the new segment Demagogglebox is the answer, where our opinion is . If only we can pay enough attention while dual screening on our mobile phones. #WhatEvs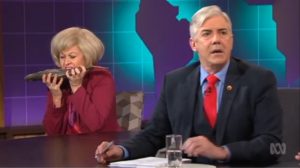 Preferences will play the biggest role in who gets elected, but what can we make of them when The Greens preference a candidate who has protested every Mardi Gras over a progressive one? Spokesgollum Corriander Tuesday (Emily) is of two minds on the subject, admitting The Greens have changed their mind, but the "tricksy media" is "making nasty wicked conclusions." Jacqui Lambie isn't doing any preference deals, and Dolly Norman (Roz) says that Jacqui just does whatever she likes, putting all the workers, families, veterans and students of Tasmania first, making it very crowded in top priority position.
Later in the week, Enid Swink is battling a witch hunt, personal tragedy, and some pretty terrible dialogue, in an ABC drama completely unlike anything with Marta Dusseldorp.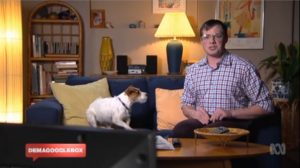 What about the delectable inland fruit meat of regional Australia – do they just have Barnaby Joyce looking out for them? Scott Morrison prophesied a Labor/Greens alliance might have anyone in a list of hypothetical unrealistic names standing up for the bush, but Caspar Jonquil is upset – ranting a bunch of baseless ideas and disconnected theories is his thing!
Media Sasquatch casts an eye on Bob Katter's ad, which is more like a film: Katter plays himself, unconvincingly, squabbling over a "Australia For Sale" sign with the Labor and Liberal parties, until he shoots both of them dead. It's daring, it's bleak, and it's a triumph, and it's opening the Cairns, not Cannes, Film Festival.
The Liberals have been working on their own ad, one filled with the techno beats of DJ ScoMo and selling the message of the"greening of Labor", but it's "in your face" style is likely to lead to the browning of underpants. Bill could only counteract it with a Zinger, and not a good one.
Like a Bill Shorten Zinger, the NBN is something most Australian's haven't got, and to stop the it getting constipated, Labor think the project needs more fiber. To argue against this additional spending, Turnbull tried his own zinger – "Shortenonomics" – but it failed.
In an online video, Vote Compass mixed-up the most right-leaning, and most left-leaning electorates, and Shaun can only think it's because either a magnet got too close to the compass, or because the Fact Check unit has been closed. It must be the latter, since even recent news bulletins have quoted "Prime Minister Derryn Hinch and his wife Scarlett Johansson".
Later in the week: Howard is spending more time on Menzies. (literally)
Fancying himself a Kingmaker, Shaun has his eyes on Bert Van Manen, who might find himself as PM in 6 months of so. He has media savvy, being able to green-screen himself inside and outside the parliament in exactly the same suit, has the charisma of Luke McGreggor and political nous of Atilla the Hun – certainly one to watch.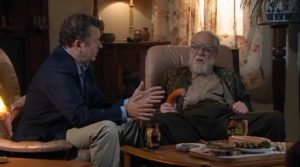 Bill Duthie has the "Wisdom of the Elders", although on the subject of former PMs, he has his Whitlam confused with his Chifley and his Holt. This election, Bill is supporting Tony Abbott, a rare politician who doesn't know the meaning of the word "ousted." Bill refuses to read the book about Abbott and Peta Credlin, since it's full of scurrilous lies – he prefers listening to the audio book. He's even kept a piece of the table Joe Hockey broke on the night of the party vote, which he keeps in a cupboard next to Harold Holt's skeleton.
Finally, all the parties have been appealing to the migrant communities ahead of the election. Richard DiNatale goes as far to say that it is the migrant communities who have forged this nation – Shaun thinks it's a brilliant forgery, since it's got everyone fooled.