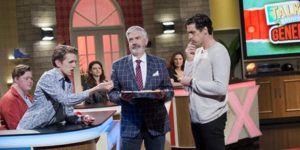 TAYG will be back for 2019! After a come back last year on a new network, with new team captains (but thankfully the same host) Talkin' 'Bout Your Generation (MK2) will return to our screens for Series 2 later in the year. Filming is happening during February and March.
The quiz show battles celebrities from different generations against each other, with questions and physical challenges, to decide who is the greatest generation (of the week).
In the meantime, you can watch Series 1 online.