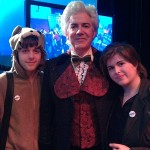 Well, my hopes came true – Shaun did indeed dress as The Doctor (as in "Doctor Who") in the upcoming Sci-Fi episode – specifically, the third doctor! Fan Jenn has kindly sent us in a photo.
We also know that Peter Burne will be one of the guests for the episode.
Add your comment if you know any other juicy details for the (half)-season ahead!