To be or not to be… that is… the… question? It was a Shakespeare themed episode, and Shaun was dressed as Richard, Duke of Gloucester (later Richard III).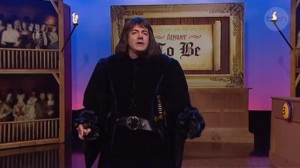 Amanda and HG Nelson were Macbeth and Lady Macbeth (BB), Charlie and Claudia Karvan were Marc Antony and Cleopatra (Gen X) and Josh and Josh Lawson were Romeo and Romeo (Gen Y). Both Josh's thought the other were coming as Juliet.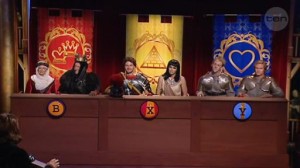 First up was Wil.I.Am, where the teams had to identify the movies and the Shakespeare play they were based on. In Sounds Like History, garbled versions of headlines from history had to be deciphered. (I noticed a mistake in one question – Pink Floyd reformed for Live8 in 2005, not Live Aid in 1985)
For As Quick As, the teams had to answer questions before a fencing tournament completed.
As there is much conjecture on if Shakespeare actually wrote his own plays, the four buttons were all possibles ghostwriters: Mao Zedong, Pauletta Washington, Crosby Stills Nash, and Selena Gomeza.
Gen Y chose Mao Zedong, which was Geilgud's Feel Goods. Sir John read the lines from songs, for the Josh's to guess. Shaun pointed out that due to a computer error in 1965, Video Killed The Radio Star became the national anthem of Bhutan.
Gen X picked Selena, playing Chronoloco Regina! Different movie versions of Queen Elizabeth had to be put in order, but when it became apparent Charlie and Claudia had no idea, the Baby Boomers stepped in.
The Baby Boomers decided on Pauletta. Liquidentify was the game, identifying foods from their blended version – including Sushi!
The Your Gen topic was Quills!
Finally, to prove the theory that one million monkeys using on a million typewriters would write the complete works of Shakespeare, the teams had to type the famous words from Hamlet.
And it was Gen Y who won the 2002 Hunter Region Senior Chess runner up trophy, donated by Matthew Koutnick.